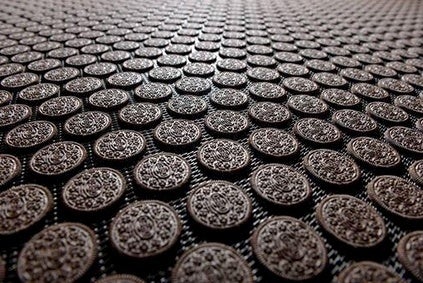 Mondelez International today (28 May) acknowledged challenges in its work to reduce saturated fat in its products and to lower the water and energy use in its manufacturing.
The Cadbury and Oreo maker gave a progress report on its "Call for Well-being" strategy, which was launched in 2013 to set out a series of pledges in four areas – sustainability, mindful snacking, safety and community.
The snacks giant claimed it had made "good progress" on its pledges. However, while the company said it was on track to meet targets on whole grains and sodium, it admitted "more work is needed" on a bid to reduce saturated fat by 10% by 2020.
"At end of 2014, saturated fat declined across entire portfolio by 1%," Mondelez said. "We have seen success in reducing saturated fat by 40% in some Oreo varieties, and are replacing saturated fat oils in our biscuits."
The group said "more improvement is needed" to reach its goals of reducing water and energy use in manufacturing by 15 percent by end of 2015.
"At end of 2014, incoming water usage decreased by 10% per tonne of product; manufacturing sites worldwide reduced energy per tonne by 7%," Mondelez said.
In its progress report, Mondelez said it had exceeded targets in areas such as cutting manufacturing waste and reducing packaging. The company said it met targets on sustainable palm oil and on lowering greenhouse gases from manufacturing ahead of schedule.
The group said it had strengthened its policy on marketing to children. Starting next year, Mondelez "will no longer advertise products directly to children under age 12, irrespective of the product's nutritional profile", it said.
For the full report, click here.