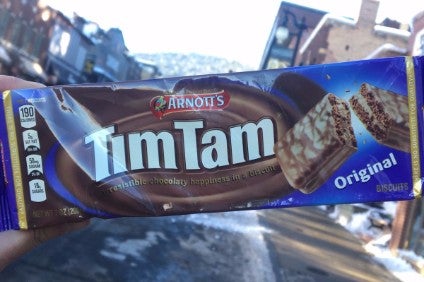 Mondelez International, the Cadbury and Oreo owner, has again been reported to be interested in two snacks assets outside the US that Campbell Soup Co. has up for sale.
According to Bloomberg, Mondelez has hired Morgan Stanley to weigh up whether to make an offer for Australia-based unit Arnott's and Denmark-based baked-snacks business Kelsen Group.
Citing unnamed sources familiar with the situation, Bloomberg reported Mondelez was one of a number of possible bidders for the assets, which Campbell put on the block in August after reviewing the future of its operations. The soup maker launched the review after a hefty third-quarter loss, pressure on sales and the departure of its chief executive.
Last week, CNBC reported Mondelez as being among the companies looking at Arnott's, along with other potential suitors US food group Kraft Heinz and Italy-based confectioner Ferrero.
Mondelez declined to comment on the CNBC report and had the same stance on the Bloomberg report, which the company described as "rumours or speculation".
Reacting to the Campbell report, a spokesperson for the Pepperidge Farm owner said: "We do not comment on rumours or speculation. Campbell International is a solid business with strong brands. We expect Campbell International will be attractive to many different types of buyers because of its strong brands and position in the market. We're focused on completing this transaction in a timely and disciplined manner that maximises value."
As well as Arnott's and Kelsen, Campbell is also looking to offload its US fresh food segment Campbell Fresh which includes Bolthouse Farms, acquired for US$1.55bn in 2012.
Last month, The Wall Street Journal said Campbell was in discussions with a group of investors led by Jeff Dunn, who ran Bolthouse Farms, over the sale of Campbell Fresh. The company declined to comment.
The plans to sell assets and focus on North America are being pursued while activist investor Third Point, which has been critical of Campbell's performance, is putting pressure on the business and its board.
Third Point, which became a Campbell shareholder this summer, has argued the company's review does not go far enough and has reportedly been pushing for a sale of the business. The fund, led by Daniel Loeb, has also put forward nominees for the Campbell board ahead of the manufacturer's AGM later this month.
Campbell and Third Point have publicly criticised each other's plans for the company.