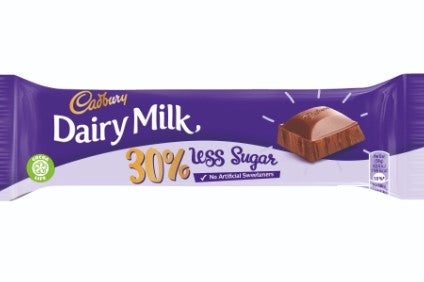 Confectionery giant Mondelez International is undertaking an offensive to cut sugar in products sold in the UK and Ireland.
From 2019, Mondelez will offer a variant of its Cadbury Dairy Milk chocolate bar with 30% less sugar.
The new bar, which will sit alongside the standard bar on shelves, "marks the most significant innovation in the brand's history, and underscores Mondelez International's ongoing commitment to play its role in tackling obesity, including childhood obesity, in the UK", the Cadbury owner said in a statement.
Mondelez did not provide exact details of how it had reduced the sugar in the new bar but said: "By harnessing their leading-edge understanding of flavour technologies and material science, the team has successfully replaced the physical functionality of the sugar in solid chocolate in a way that not only preserves the structure of chocolate but also stays true to the unique texture and taste profile of Cadbury Dairy Milk. If successful with consumers, Mondelez International will also look to apply to the approach to other Cadbury Dairy Milk products."
Asked for further details, Mondelez said "fibre" had been used in the formulation but declined to comment further.
There are plans in the pipeline by Mondelez to launch other products in the UK and Ireland with lower levels of sugar, including Cadbury Boost+ Protein, which will contain 12 grams of protein per bar and 32% less sugar, and a 40% less sugar line extension to BelVita.
Cadbury Dairy Milk Perfect Pieces are also in the pipeline, a 19 gram individually wrapped portion of chocolate with less than 100 calories.
Mondelez's sugar offensive builds on its efforts to offer consumers more healthy choices, including portion controls, after introducing a 250-calorie cap on single-serve chocolate bars. It has also launched a 98 calorie Cadbury Dairy Milk bar, while 90% of Cadbury's products loved by children offer less than 100 calories, such as Freddo and Buttons.
UK government agency Public Health England (PHE) welcomed the initiative.
Dr Alison Tedstone, chief nutritionist at PHE, said: "We're pleased that Mondelez is the latest household name to commit to offering healthier products. This announcement shows reducing sugar in chocolate confectionery is possible and we look forward to seeing future reductions across more of its confectionery range."
Mondelez plans to launch Cadbury Boost+ Protein in August. And next year, it hopes to bring the less-sugar variant of BelVita to market, along with Maynards Bassetts hero products, Wine Gums and Jelly Babies.
The company also has "longer-term" plans to reformulate Cadbury Brunch bars to reduce sugar by around 20% and to explore a lower-sugar option for Oreo. A number of "significant" sugar-free innovations for Trebor are in process too.
In May, PHE announced food manufacturers operating in the UK had missed their first voluntary target on reducing the levels of sugar in a selected group of products – but described the moves made so far as an "encouraging start".