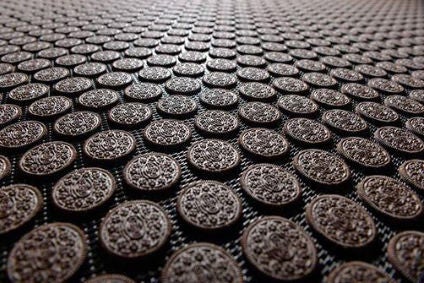 Cadbury chocolate and Ritz crackers owner Mondelez International has conceded it has "much more work to do" on its targets for lowering saturated fat and sodium in its products after revealing the progress it is making on a range of moves to make products healthier and more sustainable.
Mondelez yesterday (22 June) provided an update on the US snacks giant "Call for Well-being" strategy, which the company launched in 2013 to improve its performance in four areas – healthier snacks, sustainability, safety and community partnerships.
The business outlined how it had exceeded its goals in areas including the use of whole-grain in snacks and greenhouse gas reduction, while being on-track on other targets, including front-of-pack, the sustainable sourcing of cocoa and investment in what the company calls "healthy lifestyle community partnerships".
Mondelez has targets to reduce the saturated fat and sodium in its products by 10%, when compared to the levels used in 2012, by 2020.
The company revealed it had cut the saturated fat in its foods by 2% by the end of 2015 and had lowered sodium by 1% by the end of the year. It pointed to moves incuding the reduction of the saturated fat in Tuc crackers sold in the Middle East and Africa by 8%. Mondelez also said there had been "steady reductions" in the amount of sodium it uses in its biscuits and cheese globally but admitted progress had been offset by a shift in sales "to our higher sodium segments". It added: "We are scaling up sodium reduction efforts across all product categories."
Speaking to just-food, Mondelez pointed to the types of challenges it had faced in lowering saturated fat and sodium.
"Saturated fat is naturally present in dairy and cocoa and cannot be taken out based on the standards of identity of chocolate and dairy products. In other areas like biscuits, it is critical we maintain the consumer attributes that define the products and make them as delicious as they are. Finding lower saturated fats that perform equally has been a more difficult effort and, although we're making progress, we still have work to do confirming the consumer experience," a Mondelez spokesperson said.
On sodium, the spokesperson pointed to how sodium can come into food and the uses of the ingredient beyond tatse. "Salt enters the food from many different sources and has a broad range of functionality beyond salty taste. For example, sodium comes into products through leavening agents, the cocoa dutching process [and] with non-nutritive sweeteners. We had made major changes leading up to our 2012 commitments by reductions we took between 2009 and 2012. But finding functional replacements for the sodium that comes less directly requires more incremental, SKU by SKU reformulation and simply takes longer."
The spokesperson added: "With reduction efforts in the pipeline, we feel confident we can achieve our 2020 goal for both salt and sat fat. We're also accelerating and scaling up sodium reduction efforts across all product categories."