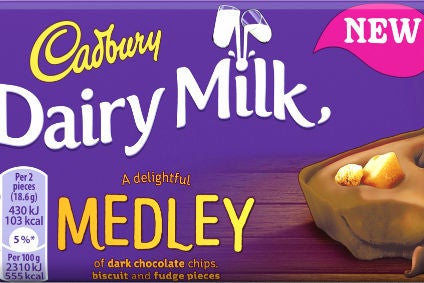 Mondelez International has developed Cadbury Dairy Milk Medley for the UK market, a small tablet bar marketed as a "luxury" treat in the evening.
The 93g bars combine visible onclusions and a soft chocolate centre, wrapped in Dairy Milk chocolate. The new product is available in two 93g tablets. One has dark chocolate chips, biscuit and fudge pieces. The other also has dark chocolate chips but then contains caramelised hazelnuts and raspberry pieces.
Mondelez said it was looking to increase sales of small tablet bars, particularly among women aged 25 to 44.
"Our target shoppers are adventurous with their chocolate choices and especially like trying new products and new taste experiences, with a preference for creamy textures – and this really delivers on the need for a smooth centre with exciting, quality onclusions," Matthew Williams, marketing director for chocolate in the UK, said.
The bars have an RRP of GBP1.49 and are also available in a promotional GBP1 price-marked pack.