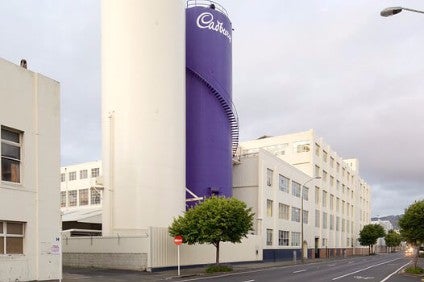 Mondelez International today (16 September) set out plans to stop manufacturing in New Zealand, with the end of production at its site in the city of Dunedin.
The Cadbury owner said more than 70% of the products made at the plant were exported "with the vast majority" shipped to Australia.
Under its plans, the manufacturing taking place at Dunedin would end next year, with production moving to sites across the Tasman.
Amanda Banfield, the vice president for Mondelez's operations across Australia, New Zealand and Japan, said: "This is an incredibly difficult announcement, given the factory's proud history and the outstanding performance of our employees."
However, she added: "The company's proposal is the result of extensive consideration of the issues affecting local production. We operate in an increasingly competitive industry and the factory's distance from its main market, low volume and complex product portfolio, make it an expensive place to manufacture our products. We've been on a multi-year journey reinventing our global supply chain. We're focused on becoming globally cost-competitive through increased production and investment in larger sites, while reducing costs, which allows us to fuel the growth in our brands. While the business has absorbed the additional costs associated with Dunedin production for a number of years, there's existing capacity in our Australia sites which can deliver these production volumes at the same quality our consumers expect."
Some 350 staff work at the Dunedin site. Mondelez has started talks with employees. Under the company's plans, a "first phase" of redundancies would take place later this year, with around 100 staff staying with the business until early 2018.
"New Zealand remains an important market for our business, and if the proposal is adopted, we will continue to invest in those things that make us a valued partner to hundreds of businesses throughout the country," Banfield insisted.
The company plans to employ more than 130 staff in commercial, finance and human resource functions in New Zealand. It said it would invest in its Cadbury World visitor centre in Dunedin.