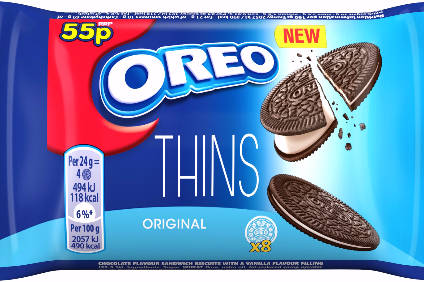 The UK and Ireland are to become the latest markets for Mondelez International's Oreo Thins range.
Oreo Thins, developed and first launched in China, were rolled out into Australia earlier this year and into the US in 2015.
Mondelez's UK arm said the described the Thins as "ideal for the mid-afternoon nibbling occasion".
Oreo Thins will be launched in two "classically popular Oreo flavours" in the UK – Original Vanilla and Chocolate Creme – and will be available in 48g packs. They have a recommended retail price in the UK of GBP0.55.
Helen Potter, senior brand manager for Oreo in the UK, said: "Our insight shows that consumers are looking for a tasty 'me' moment in the afternoon that is lighter than a traditional biscuit but still full of taste. With this launch, we aim to recruit under 45s, those consumers that are currently buying Oreo for their family but now offering a product that they can purchase for themselves and in turn, continue to drive growth within the category," Potter said. "It's a proven formula that has performed extremely well in other markets and we think it will be a great addition to the Oreo portfolio."
According to Mondelez, Oreo is worth GBP44.8m (US$56.6m) in the UK, with sales up over 33. year-on-year. Mondelez also said brand is "also the top value growth contributor to sweet biscuits", having added GBP11.2m to the category in the last 12 months.