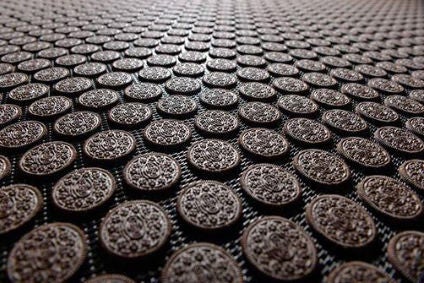 Mondelez International today (2 August) confirmed its sales in the first half of 2017 had been affected by July's international cyber attack but the Oreo and Cadbury maker maintained its forecasts for annual underlying revenue and margin.
The US-based snacks giant saw its organic net revenue growth drop into negative territory in the first six months of the year, falling 1%, after a 2.7% year-on-year decrease in the second quarter.
Mondelez warned last month the malware attack, which started in Ukraine and which spread around the world, would take three percentage points of growth from its second-quarter sales due to the disruption caused to shipping and invoices.
Nevertheless, the company, which also markets brands including Milka chocolate, Trident gum and Philadelphia cheese, said today it continues to expect its annual organic net revenue will increase by "at least 1%".
Mondelez also maintained its forecast that its adjusted operating income margin would be "in the mid-16% range" in 2017. The group also stuck to its forecast that its adjusted earnings per share would grow at a "double-digit" rate on a constant-currency basis.
The company enjoyed rising operating income margins, on both a reported and an adjusted basis, during the first half of 2017 despite the pressure on sales. Mondelez pointed to lower selling, general and administrative costs.
Looking at Mondelez's group-wide reported results, the maker of Toblerone chocolate and Maynards wine gums posted a 2.8% decline in half-year net revenue to $12.4bn.
Mondelez has four geographic divisions: the combined Asia, Middle East and Africa; Latin America; Europe; and North America. Only in Latin America did Mondelez grow its net revenue in the first half of 2017, with the region reporting a rise of 5.9%.
The malware incident, as well as "unfavourable" exchange rates, were cited as factors putting pressure on Mondelez's group sales.
The company's operating income rose 8.9% to $1.48bn. Net earnings attributable to Mondelez were up 10.8% at $1.12bn.
Alongside the publication of Mondelez's first-half results, the company announced chairman and CEO Irene Rosenfeld was stepping down after more than a decade in charge of the business and its forerunner Kraft Foods Inc.
Rosenfeld is to be replaced by McCain Foods president and CEO Dirk Van de Put. He will succeed Rosenfeld as Mondelez CEO in November and then as chairman in March next year.
Reflecting on Mondelez's second-quarter results, Rosenfeld said: "We delivered strong margin expansion and double-digit EPS growth in the quarter despite the revenue impact from the malware incident at the end of June. We're seeing improved trends in Europe and across many of our emerging markets, and our North America business is on track for a stronger second half."