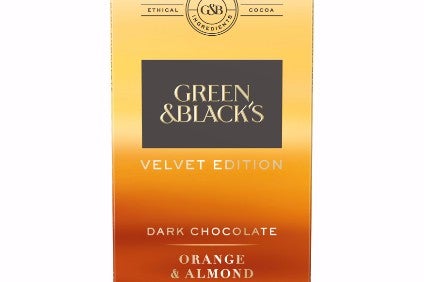 Mondelez International is launching the first Green & Black's chocolate that is neither organic nor Fairtrade.
The Velvet Edition range, which will go on sale in the UK next week, follows the launch of a non-organic Green & Black's line in the US last year and Mondelez's decision last autumn to change the relationship between its Cadbury brand and the Fairtrade ethical certification.
Cocoa for the new Green & Black's range will be sourced under Mondelez's own Cocoa Life sourcing programme, which the then Cadbury launched in Ghana in 2008 as the Cadbury Cocoa Partnership. Mondelez claims "independent verification" shows farmers' incomes have increased by 49% under Cocoa Life compared to farms outside the programme.
The Fairtrade Foundation will continue to work with Mondelez on the company's Cocoa Life programme but the Fairtrade logo has disappeared from Fairtrade-certified Cadbury Dairy Milk products. By 2019, all Cadbury-branded chocolate in the UK and Ireland will display the Cocoa Life branding.
The launch of a non-organic, non-Fairtrade Green & Black's line in the UK has grabbed mainstream headlines. Green & Black's, set up in 1991 by husband and wife Craig Sams and Jo Fairley, received the first Fairtrade mark in the UK three years later.
Glenn Caton, the president of Mondelez's operations in northern Europe, said: "Everything we do starts and ends with Green & Black's founding principles – great taste, high quality and a commitment to sustainability. We will never compromise on those promises and remain loyal to the brand's heritage."
Caton added: "Our team of expert chocolatiers have created Green & Black's first ever new range with beans deliberately chosen for their distinctive taste, sourced from Ghana in west Africa. These beans are not available in organic at the scale required for Green & Black's, but I am proud that they are sustainably sourced, independently verified beans from the Cocoa Life programme, of which Fairtrade will ensure we remain an accountable partner for farmers."
Green & Black's was sold to the then Cadbury Schweppes in 2005 and moved to Mondelez when the US snacks giant bought the Dairy Milk maker in 2010.
Mondelez moves beyond certification but still wants Fairtrade by its side – analysis