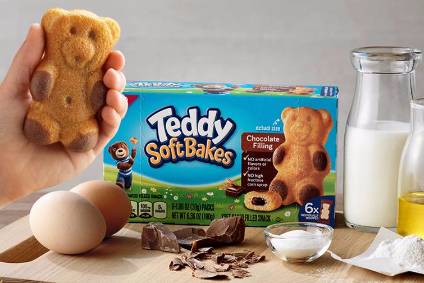 Mondelez International has expanded its Teddy brand in the US with the launch of Teddy Soft Bakes – a bear-shaped snack for children already known as Barni in other international markets.
Mondelez said Teddy Soft Bakes, which will sell alongside its Teddy Grahams line, are after-school treats designed to "help inspire moments of playful discovery and provide an opportunity for parents to connect and share with their kids".
"Parents can feel confident about saying 'yes' to this treat because it's made with familiar quality ingredients such as milk, eggs, flour and chocolate," Mondelez said. Teddy Soft Bakes "contain no high fructose corn syrup or artificial flavours or colours" and are available in chocolate filling and vanilla-flavoured filling varieties, the company said.
Senior brand manager of the kids wholesome portfolio at Mondelez, Elise Burditt, said the new line "makes snack time a moment that can help open the door to discovery-filled experiences".
Teddy Soft Bakes are available in stores nationwide, with a suggested retail price of US$3.29 for both flavours. The snacks are individually wrapped portions in a six-pack box. The chocolate filling variety is also available in a 12-pack box for a suggested retail price of $6.49.
Mondelez said the new line is also one of the first of its products to incorporate the US Grocery Manufacturers Association's SmartLabel QR code on packs, offering consumers detailed product information.