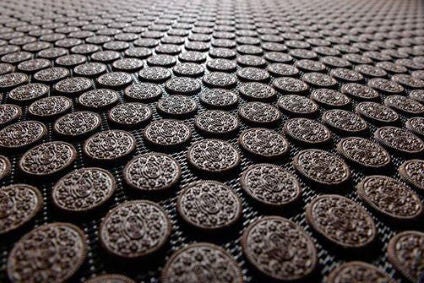 Mondelez International has revised its forecast for how much the US snacks giant's revenues will grow on an organic basis in 2016.
The Oreo and Cadbury owner said today (27 July) it believes its organic net revenue, which excludes factors like M&A and exchange rates, will grow by approximately 2% this year. In May, the company had set out an estimate for growth of "at least 2%".
On a reported basis, Mondelez expects exchange rates to have a more negative impact on its revenue in 2016 than it had previously thought. It said based on foreign exchange rates on 22 July there would be a negative translation impact on 2016 net revenue growth of approximately four percentage points, compared to its previous forecast of three percentage points.
The tweak to Mondelez's revenue forecast came as the business reported its results for the second quarter and first half to the end of June.
Mondelez's net revenue grew 1.5% in the second quarter thanks to a 1.6% point benefit from pricing. The increase marked a slowdown from the first quarter, when organic net revenue increased 2.1%. The combination of the two quarters meant first-half organic net revenue was up 1.9%, although volumes were down by 0.4 percentage points.
Chairman and CEO Irene Rosenfeld pointed to the US snacks giant's underlying "strong margin expansion".
The Oreo and Cadbury owner booked a 24.1% drop in second-quarter operating earnings to US$638m, amid costs linked to the disposal of its coffee business, restructuring costs and the deconsolidation of the company's operations in Venezuela. The decline led to Mondelez posting a 17.7% fall in first-half operating earnings to $1.36bn.
However, stripping out factors including the coffee sale, restructuring and Venezuela, second-quarter operating earnings were up 12.9% at $960m and rose 12.8% in the first half to $1.93bn. Mondelez's adjusted operating income margin rose by 210 basis points in the second quarter and by 230 basis points during the first half of the year.
Reported second-quarter net earnings grew 14.3% to $464m. On an adjusted basis, net earnings in the quarter dropped 3% year-on-year to $700m as foreign exchange weighed on the business.
First-half net earnings were up 39.5% at $1.02bn. On an adjusted basis, they grew 6.3% to $1.47bn.
Rosenfeld added: "Despite a challenging macro environment, our strong execution and first-half performance give us confidence in delivering our 2016 outlook and 2018 margin targets."