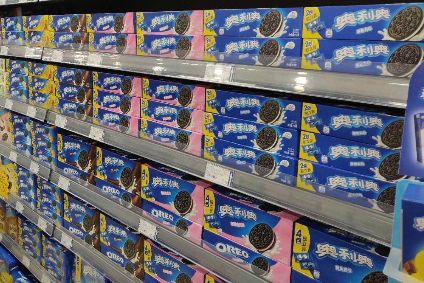 US snacks giant Mondelez International upped its sales growth forecast for 2021 after seeing its emerging-markets business accelerate in the second quarter.
The Cadbury Dairy Milk owner now expects to grow its net revenue on an organic basis by more than 4% this year, compared to its previous forecast of at least 3%.
Mondelez, also home to brands including Oreo biscuits and Lu crackers, kept its forecast for its "adjusted earnings per share" – measured at constant currencies – to rise at a "high single-digit" rate in 2021.
"In terms of EPS, we continue to expect high single-digit growth for the full year. We have not factored in the full benefit of the top-line additional growth on EBIT as we will continue to reinvest the volume-driven upside back in the business to sustain our [market] share performance," CFO Luca Zaramella told investors on a conference call to discuss the results.
"In terms of pricing and inflation, I would say there is going to be more in the second part of the year. To start with our pipeline of commodities and forex has been advantageous in the first part of the year, and we expect some commodities and forex impact to be relatively higher in the second part. So, there will be some more pressure in Q3 specifically. But we will continue to be very disciplined in terms of cost and pricing."
For the three months to 30 June, Mondelez's net revenue rose 12.4% to US$6.64bn, or by 6.2% on an organic basis. Pricing accounted for 2.2 percentage points of the organic growth.
Mondelez saw its net revenue rise 19.6% year-on-year in its emerging markets. The company was lapping a period of volatility in some countries, including Brazil, Mexico and India, where sales in the second quarter of 2020 were uneven against the backdrop of the early months of the pandemic.
Sales in India were affected in this year's second quarter by fresh lockdowns but the company saw double-digit growth in the country, as well as in Brazil, Russia and Mexico. Zaramella said Mondelez's organic revenue growth in its emerging markets had been 16% in the second quarter "and more than 5% on a two-year basis".
Mondelez's reported operating income was up 22.3% in the second quarter at $872m, or by 14.3% on an organic basis. Net earnings almost doubled to $1.08bn.
In the second quarter of 2020, Mondelez's reported net earnings suffered due to items including costs related to its ownership of a stake in hot beverages group JDE Peet, as well as the group lapping a benefit last year from pension changes and currency/commodity hedges. On an adjusted basis, the company's net earnings in this year's second quarter rose 6.7% adjusted.
Chairman and CEO Dirk Van de Put said: "We delivered another strong quarter of performance across all key metrics, including top-line, profitability and cash generation. We continue to see strength across the vast majority of our geographies, categories and brands as we remain intensely focused on consistent execution and reinvestment to further strengthen our position."