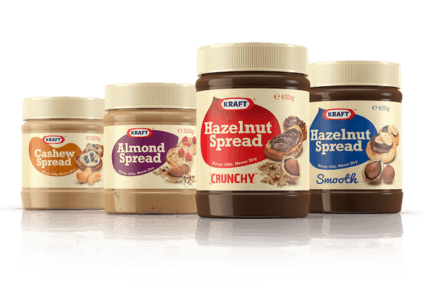 Mondelez International has launched eight Kraft nut spread lines in Australia.
The company has developed almond, cashew and hazelnut spreads and added more lines to its peanut butter range.
A crunchy hazel nut spread is "the first of its kind" in Australia, Mondelez said.
The new peanut butter lines include two flavoured products – cinnamon spice and sweet honey.
Mondelez said the eight products represented "the biggest product innovation" since the Kraft peanut butter line was introduced 50 years ago.
Justin Taylor, category marketing manager at Mondelez, said demand for "alternate nuts" was on the rise in Australia, pointing to other categories like milk and snacks.
"As the nut category has expanded and shown more functionality as a snack and an ingredient, so too has the push for more variety in nut spreads – with consumers demanding more choice," Taylor said.
The almond, cashew and two hazelnut spreads went on sale last week. Four new peanut butter lines will be available from 23 February.
The two hazelnut spreads – a crunchy variety and a "smooth" line – have an RRP of A$5.70 (US$4.43) for a 450g jar.
The almond and cashew spreads are sold in 325g jars for an RRP of 325g.
Mondelez said the four new peanut butters, which include "natural" crunchy and smooth products alongside the flavoured lines, all have RRPs of A$4.60. The crunchy and smooth peanut butters are sold in 325g jars, with the flavoured butters in 340g jars.