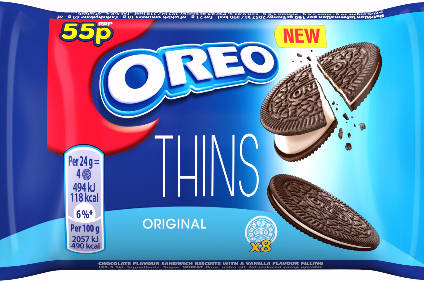 With the possibility of a so-called no-deal Brexit growing, US-based snacking giant Mondelez International is reportedly stockpiling ingredients and finished goods.
Mondelez's president of European operations Hugh Weber made the revelation about amassing stocks of chocolates and biscuits by the owner of the Cadbury, Oreo and Ritz crackers brands to The Times newspaper in an interview today (11 September).
To avoid a no-deal Brexit, the UK and European Union need to come to an agreement on issues such as the Irish border and citizens' rights by 29 March. If successful, then the negotiations will move to the next stage within a so-called transition period to December 2020, when both parties need to agree on a trade deal.
According to the EU's chief negotiator Michel Barnier, speaking to the BBC yesterday, both sides are "realistic" there could be an agreement on the terms of the UK's exit by early November. Unconfirmed reports suggest a one-off summit of EU leaders could convene in November to sign off on a deal.
Mondelez's Weber told The Times the company was eager for the UK to reach a deal that would ensure the free flow of products, but also has a contingency plan in place because the country is not self-sufficient in producing food ingredients.
"However, we are also preparing for a hard Brexit and … we are stocking higher levels of ingredients and finished products," Weber said.
Prime Minister Theresa May is reportedly facing the possibility of a revolt among Conservative party members if she persists with her so-called Chequers plan revealed at a meeting in July. The BBC said former Brexit minister Steve Baker claims as many as 80 Tories could oppose it in a Commons vote later this year.
A Mondelez spokesperson told just-food the company would not be issuing a statement regarding The Times article but said Weber's comments were "fair".