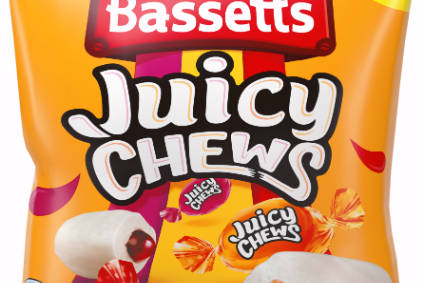 Maynards Bassetts Juicy Chews is the latest product release from Mondelez International in the UK since the company decided to bring the two brands together earlier in the year.
The combined Maynards Bassetts brand is now worth GBP129m (US$169.9m) and it hopes this latest brand addition can help bring new life to the adult candy category. It will also be its first adult candy product with a liquid centre. Maynards Bassetts Juicy Chews comes in three different flavours: cherry; orange; and strawberry.
The brand will be backed with its own TV advert and be the latest edition to the Maynards Bassetts 'tasty intermissions' campaign which started in April. The GBP4m campaign is the biggest TV spend for the brand for 20 years.
Katie Bashford, senior brand manager for joyful candy at Mondelez in the UK, said: "The confectionery market is driven by NPD and so we are excited to launch another unique product this year under the Maynards Bassetts super brand."
She added: "Our research shows that adults are the main consumers of chew products, worth GBP40m each year. With its unique proposition, we believe this launch provides a real opportunity to inspire purchases and help retailers drive incremental sales within this key age range."