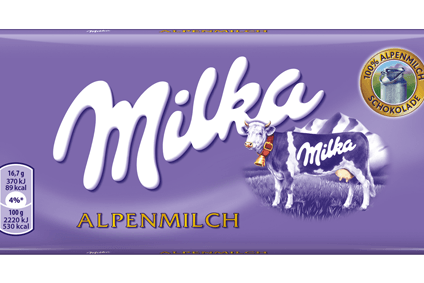 Mondelez International believes the gap between how fast its underlying sales are growing and the rate at which the snacks market is expanding will "close over time", outgoing CFO Brian Gladden said.
The Cadbury and Oreo maker on Wednesday (25 July) reported a 3.5% rise in organic net revenue for the second quarter of 2018, helped by growth in volume and pricing. The result compared to a 2.4% increase in the first quarter of the year.
However, stripping out the contribution of one-off factors such as the positive impact of lapping last year's malware incident and a hit from the 11-day truckers strike in Brazil, Mondelez's organic net revenue increased by 1.9%.
Mondelez provided data using numbers from Nielsen, which the US snacks giant said showed the overall snacks category grew by 3.1% through to the end of June.
Pressed on the difference between the rate of Mondelez's underlying sales growth and that of the category, Gladden, who hands over to Mondelez veteran Luca Zaramella in August, said: "I think we sort of got the math at about 70 basis points disconnect between category growth and our growth. And there's really two drivers. We are net-net still in aggregate losing some share. It's mostly in Brazil, US gum contributes, and those are probably the two biggest.
"And then, as we talked about in the first quarter, there's an inventory trade reduction that played out in the North America business. Those are the two biggest drivers that would explain the delta. I'd say we feel pretty good about the fact that the share performance almost everywhere else in the world is actually improving and I think we see this gap closing over time."
Gladden's take saw some support from analysts. "We would note that year-to-date snacks global category growth is up 3.1% year-on-year, an acceleration from +2.1% year-on-year in 2017. Even though second-quarter, underlying, organic growth of circa 1.9% year-on-year has lagged end-market consumption, with North America now on an improving track, we could see this gap narrow moving forward," Barclays analyst Andrew Lazar wrote in a note to clients.
Alongside the publication of Mondelez's second-quarter and first-half financial results, the Milka chocolate and Trident gum owner revised its forecast for how much it sees its organic net revenues growing in 2018.
Pointing to the growth in Mondelez's sales and in the acceleration in the growth of sales in the overall snacks category, Gladden said the company now expected its organic net revenues to grow "at the high end of our stated range of 1% to 2%" in 2018.
Mondelez's management was asked on the call why it had not lifted that forecast to above 2%. Incoming CFO Zaramella cited other factors. "We are encouraged by the evolution of the top line over the last three quarters and, as we said in the opening remarks, quite pleased about the fact that it is broad-based both in terms of categories and regions.
"In totality for the company, though, we want to remain thoughtful about the second half. There are still some elements of volatility in emerging markets, like Brazil, as we said. North America, good progress, as we've said but improvement is going to be gradual. And in terms of comparison, we're lapping higher growth in the second part of last year and also malware was a positive effect specifically in Q3 last year."
In September, Mondelez chairman and CEO Dirk Van de Put is to announce the results of a strategic review of the business, which he initiated after taking the helm at the business in November.
In an answer to a question about how Mondelez sees the performance of its smaller, more local "non-power brands", Van de Put gave an indication of the company's thoughts on the parts of its portfolio away from flagship "power brands" like Oreo and Cadbury.
"We are a company that is composed of power brands, which are global brands that are clearly on-trend, that are doing well and provide the majority of our growth. But we have also a number of other brands, largely local brands. Those you can indeed divide up in two categories. There's the ones that are quite lost that have potential. They can play in authenticity or a health-and-wellness role and we probably have not invested enough in them. That's one of the areas where we are trying to make the change.
"And then there is probably a number of them that are not as appealing and that really don't have a clear future. And we need to see what we need to do with those," Van de Put said.
"[Mondelez's] Europe [division] has started to shift some of their investments into some of those local brands and we're getting some good traction from that. So I don't think they're going to grow 3%, 4%. But to see them somewhere around 1%, maybe a little bit above that, on an ongoing basis, we would be quite happy if that is what these brands are going to do for us."