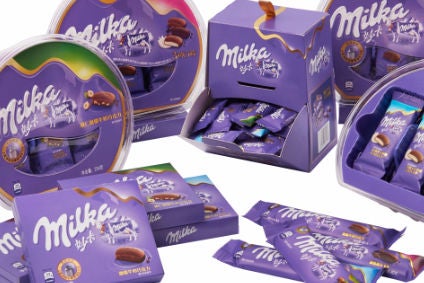 Mondelez International is to make a move to build its presence in China's chocolate market with the launch of its European brand Milka in September.
The US-based snacks group said today (27 July) the launch of Milka marked the company's entry into China's chocolate sector. However, when Mondelez announced a tie-up with Chinese e-commerce retailer in Alibaba in April, it said its Cadbury and Toblerone brands would be available on the Tmall.com platform.
"We sell a very small amount of chocolate in China today, and all of it is imported, for example through online partners like Alibaba. We sell small amounts of Toblerone from Switzerland, Côte d'Or from Belgium and Cadbury from the UK. What we announced today, however, is a major launch into the chocolate category of China," a Mondelez spokesperson said. "We will be producing locally at a state-of-the-art plant in Suzhou with a full line of products from individual treats to sharing formats as well as gifting and seasonal items. We see a huge opportunity for growth in this market.
China's chocolate market can be difficult to crack, as shown by the recent travails of Hershey in the country. Hershey's operations in China have suffered in recent quarters. The US company's 2013 investment in local business Shanghai Golden Monkey was designed to boost Hershey's operations in the country but the performance of the asset has been below expectations. Last year, Hershey booked an impairment charge on Shanghai Golden Monkey, while having to downgrade its sales forecasts for the business part-way through the year.
In the first quarter of 2016, Hershey's sales in China tumbled by around 35%. Hershey insisted it had expected its sales in China to fall during the period as the company lapped the slowdown that occurred after the 2015 Chinese New Year sell-in. When Hershey announced its results for the first quarter in June, it revealed China's chocolate category had seen sales fall 10% year-on-year, a faster rate than it had expected.
Reflecting on the plans to launch Milka, Stephen Maher, president of Mondelez's business in China, said: "We've been operating in China for over 30 years so we know this market and what it takes to launch a business here. In 2012, we entered the gum category in China for the first time and have now built this into a US$200m business with two much-loved brands. The strength of our iconic Milka brand, combined with a winning recipe uniquely designed for Chinese consumers gives us great confidence that we'll be successful with chocolate in China, too."