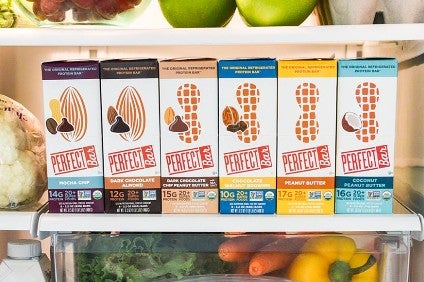 US confectionery and snacking giant Mondelez International has acquired a majority share in local peer Perfect Snacks, which produces chilled nutrition bars.
The financial details were not disclosed.
Family-owned Perfect Snacks, based in San Diego, California, generated revenues of US$70m last year and is growing at a double-digit pace, according to a statement from Nasdaq-listed Mondelez, which owns the confectionery and snack brands Cadbury and Oreo, among others.
Perfect Snacks' leadership team of Bill, Leigh and Charisse Keith will remain in place, while the business will be run separately to Mondelez' other operations "in order to nurture its entrepreneurial spirit and maintain the authenticity of the brand". The family will still retain a minority interest in the business.
The transaction is expected later in the summer once regulatory approvals have been received.
The deal is in line with Mondelez' strategy to boost the proportion of its turnover from snacks in the US under chief executive Dirk Van de Put, who launched a new initiative last November – SnackFutures – with a goal to invent new brands and businesses in "key strategic areas", to revitalise lines with "large-scale potential" and to venture with start-up enterprises.
Commenting on the latest deal, Glen Walter, the executive vice president and head of the North America division at Mondelez, said: "Perfect Snacks is an amazing brand, growing fast and a great complement to our existing portfolio that expands our leadership across broader snacking. Well-being snacks in general, and refrigerated well-being snacks in particular, are a fast-growing segment and we look forward to working with and supporting the Keith family to help accelerate this brand's great momentum."
Perfect Snacks' portfolio includes its Original Refrigerated Protein Bar and bars that are gluten-free, organic and non-GMO. It started off in 2005 with the original Perfect Bar before expanding the range to Perfect Kids Refrigerated Snack Bars and Perfect Bites Refrigerated Protein Snacks.
According to Illinois-based Mondelez, data derived from Mintel shows the US refrigerated snacks segment generates $20bn in annual sales and represents one-third of the total snacking market in the country. Within the category, well-being snacks – nutrition bars, packs with nuts and fruits, yogurts, and hummus – represent around $7bn and is "growing faster than other refrigerated snacks at around 8% a year over the past three years".
Mondelez was one of the companies vying for the international cookies and snacks business of Campbell Soup Co., but the deal fell through due to issues over the price. Under the SnackFutures programme, the firm has so far acquired minority interests in free-from snacks maker Hu and start-up Uplift Food, which produces pre-biotic "functional foods".
Bill Keith, who is a co-founder of Perfect Snacks and also chief executive, added: "We believe Mondelez International's purpose, to 'empower people to snack right', aligns very well with why we started this brand and this business. We look forward to the great opportunity for Perfect Snacks to continue to grow and innovate."