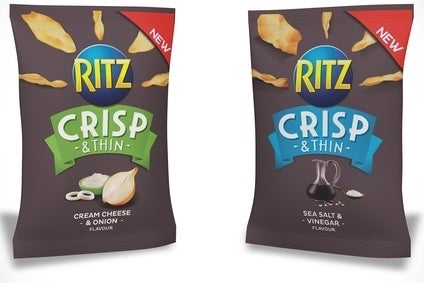 Mondelez International has moved to take its Ritz savoury biscuit brand into the bagged snacks market in the UK.?
The Cadbury owner said it wanted to be "a major player within the UK savoury category". It argued the "baked, light" Ritz Crisp & Thin range would help increase the share of the overall snacks market taken up by savoury products.
"The UK is the biggest consumer of savoury snacks in Europe worth GBP2.3bn (US$3.37bn). Currently dominated by the traditional fried potato crisp we believe there is significant room for snacks to be bigger within the category, like in North America where salty snacks are worth US$28bn. This is the first launch of many geared up to explode savoury snacks in the UK," Rick Lawrence, biscuits, crisps and snacks category lead at Mondelez's businesses in the UK and Ireland, said.
The Ritz Crisp & Thin snacks come in four flavours – cream cheese and onion; sea salt and vinegar; sweet red chilli; and sea salt and black pepper. The snacks will be available in single bags with an RRP of GBP0.79 and sharing bags with an RRP of GBP2.19.