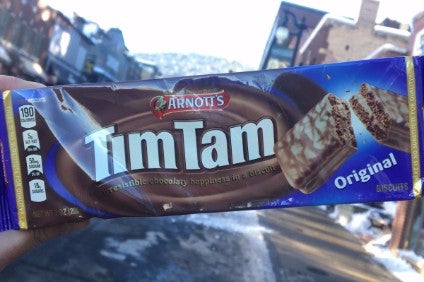 Mondelez International has reportedly reached an impasse with Campbell Soup Co. in talks to acquire the latter's up-for-sale international business, with the key stumbling block being the price.
Campbell has put a price tag of US$3bn on its Australia-based Arnott's biscuits brand and the Denmark-based baked snacks business Kelsen Group, which it put on the market last year, according to news service CNBC. Quoting sources, it says Mondelez put in a final offer a "few weeks ago" but the price offered is below Campbell's expectations.
It had previously been reported that a deal may go through for around $2.5bn.
The sources familiar with the proceedings quoted by CNBC said it is still possible a deal could happen given it is common to reach a stumbling block over price in such "last minute negotiations".
Keith McLoughlin, who was Campbell's interim chief executive until January, announced last summer that he was putting the international assets up for sale, along with the company's fresh foods division encompassing Garden Fresh Gourmet and Bolthouse Farms.
While Garden Fresh Gourmet was sold to an affiliate of Fountain of Health USA in February, Bolthouse Farms is still languishing on the market, with reports circulating that Campbell is struggling to sell that part of the business.
Mark Clouse took over the permanent CEO role from McLoughlin in January.
Meanwhile, Italian confectionery maker Ferrero, US food giant Kraft Heinz and private-equity firms KKR and Bain Capital had also previously reportedly expressed an interest in the assets.
CNBC says there still remains "multiple buyers" for Arnott's, including a consortium backed by KKR, according to one of its sources.
Plans to offload the assets came amid pressure from activist investor Daniel Loeb – of US-based hedge fund Third Point – to re-align Campbell's business through divestitures, leading McLoughlin to seek the disposal of the named assets under a strategic review to concentrate operations on its key North American market in snacks, meals and beverages.
New York-listed Campbell previously said it would use the proceeds from the disposals to "significantly" reduce the New Jersey-based firm's debt.
Before McLoughlin's arrival at the New Jersey-based company, Campbell had acquired US snacks business Snyder's-Lance early in 2018, building on the purchase of the natural foods group Pacific Foods of Oregon the previous year.