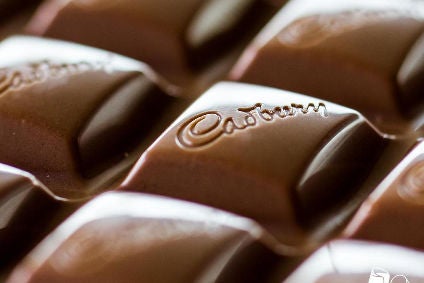 Mondelez International is to extend its own farmer-focused Cocoa Life sustainability programme to all Cadbury products in the UK and Ireland by 2019 under a partnership with Fairtrade, although the move will mean Dairy Milk products will no longer carry the Fairtrade label.
The Dairy Milk maker said starting in May, with a phased roll-out, "for the first time ever, Cadbury products in the UK and Ireland will be covered by a single sustainable sourcing programme – Cocoa Life".
Under the arrangement, Mondelez said Fairtrade will become a partner for the whole Cocoa Life programme, "working together to secure the long-term future of cocoa farming communities".
By 2019, all Cadbury chocolate in the UK and Ireland will display the Cocoa Life branding, "symbolising the adoption of the programme across the Cadbury range", Mondelez said in a statement. "As a result, the selected Cadbury Dairy Milk products that were previously Fairtrade-certified will no longer carry the Fairtrade mark."
Mondelez said: "The new partnership between Cocoa Life and Fairtrade, which builds on a relationship established in 2009, will be indicated on the back of pack. Having achieved significant impact to date, Cadbury and Fairtrade will now work together on new innovative programmes to enhance the future for farming communities, such as building resilience to climate change – which cocoa farmers say is already a key threat to their livelihoods. In addition, Fairtrade will work with Cocoa Life to develop farmer organisations and, together, enhance the understanding and reporting of the programme's impact on cocoa farmers, their families and their communities."
Glenn Caton, the president of Mondelez's operations in northern Europe, said: "Cocoa Life builds from Cadbury's proud heritage of sourcing cocoa sustainably, which dates back to a hundred years ago when the Cadbury family helped establish cocoa farming in Ghana. Through Cocoa Life, we want to become an accountable partner for our cocoa farmers, not just a buyer. We are directly connecting buyers to farmers, enabling them to build long-term businesses."
Cocoa Life truly transforms communities by delivering real and measurable improvements for cocoa farmers. We want to use our scale as the world's largest chocolate maker to drive positive change for the communities on which we depend. We support Fairtrade's vision to drive sustainable livelihoods through empowered farming organisations and communities and fairer terms of trade. We are proud to have Fairtrade's support in helping us achieve this."
Fairtrade Foundation CEO Michael Gidney said: "The evolution of our partnership with Cadbury and Cocoa Life is an exciting development as it embeds Fairtrade, our values, principles and unique relationships with farmer networks into the whole programme. In doing so, together we can increase the scale and impact of Cocoa Life, towards a common goal – one in which cocoa farmers, their organisations and communities are empowered, can invest in their own futures, and go from just surviving, to thriving."
Launched in Ghana in 2008 as the Cadbury Cocoa Partnership, Cocoa Life has since been rolled out across more than 795 cocoa farming communities worldwide, Mondelez said. "Independent verification shows that farmers in the Cocoa Life programme in Ghana have seen their incomes increase 49% more than farms outside the programme."
Mondelez said earlier this year that it planned to "accelerate" efforts to reduce the group's impact on the environment, setting new sustainability goals for 2020.
In May, Mondelez said it would look to "strengthen" its moves to tackle child labour in its cocoa supply chain in Cote d'Ivoire and Ghana. The company said it planned to implement six recommendations from human rights consultancy Embode, which had assessed conditions in the African countries last year at the request of the US snacks group.