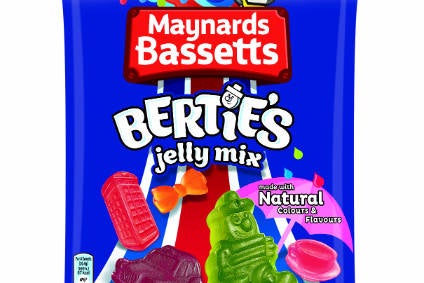 Mondelez International is uniting two of its UK brands – Maynards and Bassetts – to launch a "masterbrand" line of confectionery targeting adult consumers.
The range will come under Maynards Bassetts branding. It will consist of classic products such as Wine Gums, Jelly Babies and Liquorice Allsorts. Mondelez is also launching a new product to coincide with the re-branding: Bertie's Jelly Mix.
Mondelez said it hopes to retain the "iconic characteristics" of Maynards and Bassets and added that the new Bertie's Jelly Mix "celebrates the fun and Britishness of the two brands".
Bertie's Jelly Mix will be available in 130g and 160g non price-marked packs and 130g price-marked packs.
The move will be supported by a GBP4m (US$5.7m) campaign, including TV, PR, digital and in-store activity.
Katie Bashford, senior brand manager at Mondelez International, said that the move was targeting adult consumers.
"Our research shows that 65% of candy is purchased by adults. We believe this provides a real opportunity, with our brands perfectly placed to inspire purchases by adults," she revealed. "Maynards Bassetts will be the number one adult candy brand, worth a huge GBP127.9m, and, together, will be in an extremely strong position to evolve as a brand and drive category growth."