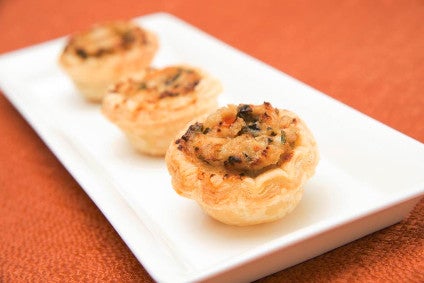 US beef jerky-to-bacon group Monogram Foods has bought privately-held appetiser maker Progressive Gourmet for an undisclosed sum.
Progressive Gourmet manufactures products under brands including Goodwives, Original Rangoon Co. and The Caterer's Choice. It also makes private-label products for the retail sector.
Monogram said the processing and distribution for small bites, baked goods, and hors d'oeuvres supported would support its own growth.
"We will merge our Progressive Gourmet purchase with Monogram's other frozen appetiser businesses based in Plover, Wisconsin, creating a comprehensively staffed division of 800 talented team members," Monogram chairman and CEO Karl Schledwitz. "With our strong and talented management support team, we will continue to optimise our customer-centric business with food processing best practices while implementing advanced capabilities to lead in the delivery of delicious products."
Monogram is expanding its facilities in Wilmington and looking to add 100-150 staff. "Additional facility expansions are planned throughout the rest of 2016 in order to meet the demand of a robust list of customers," Schledwitz said.
Monogram owns eight manufacturing plants in seven states, all of which have been acquired by the company over the past ten years.