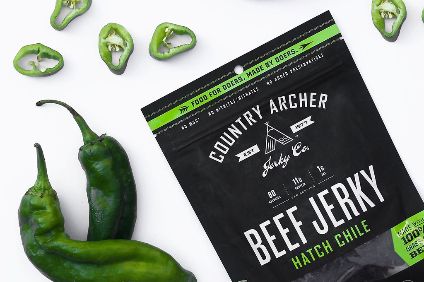 US firm Country Archer Jerky Co. has attracted fresh investment from existing investor Monogram Capital Partners to support plans to invest in production amid growing sales.
Monogram Capital Partners has put US$10m into Country Archer, the private-equity firm's third investment in the California-based business, which claims to be "the fastest-growing jerky brand in the natural channel", although it does not disclose annual sales, nor its profits.
"We've significantly expanded our retail footprint within the last two years, having reached a record 25,000-plus retailers and launched in Canada for the first time. With increased demand comes the need to more than double our production capacity while also increasing efficiency. We're a vertically integrated company and make all our jerky in-house so this new round of funding will contribute to purchasing additional equipment within our 30,000 square foot production facility throughout the next year," Country Archer co-founder and CEO Eugene Kang told just-food.
Country Archer secured its first listings in Canada this summer at local Safeway stores.
Overall, the company said it has seen "a record year of growth" across the first three quarters of 2018. "We've gone from 15,000 doors at the beginning of January 2018 to 25,000+ doors by mid-September 2018 thanks to growing consumer demand for high-quality meat snacks and our unique innovation launches. In spring 2018 we introduced Meat Bars – the first line of meat-based protein bars on the market made with collagen peptides. Since then we've also launched a new grass-fed beef jerky flavour and two antibiotic-free turkey jerky flavours."