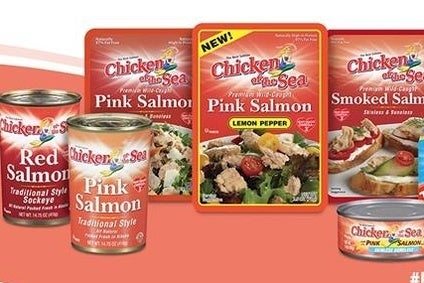 Three more lawsuits have been filed alleging price-fixing among major US canned tuna companies.
Piggly Wiggly Alabama Distributing Co., US restaurant Harvester's Seafood and Steakhouse and a consumer in California claim Bumble Bee Foods , Chicken of the Sea, King Oscar and StarKist colluded on price.
The lawsuits are the latest to be filed against some or all of the companies. Among the plaintiffs is US food distributor Olean Wholesale Grocery Cooperative , which accused Bumble Bee, Chicken of the Sea and StarKist of fixing prices.
Speaking to just-food this week, Christopher Lebsock, an attorney for Olean, said the lawsuit was sparked by an investigation by the US Department of Justice into alleged price-fixing.
"The lawsuit is an outgrowth of the DOJ's empanelment of a criminal grand jury, which is investigating anti-competitive conduct concerning the pricing of packaged seafood products. The lawsuit claims damages for the preceding four years. It will take a number of months before the dispute is resolved, and often it takes years to resolve antitrust lawsuits," Lebsock said.
Lebsock claimed the collusion on prices may have emerged as The Department of Justice reviewed the potential impact on competition of Thai Union Frozen Products' move to buy Bumble Bee, which the seafood giant announced in December. That deal followed Thai Union's acquisition of King Oscar three months earlier. Thai Union already owns Chicken of the Sea through US arm Tri-Union Seafoods .
"We believe that one of the three major packers – StarKist, Bumble Bee, or Tri-Union – informed the DOJ about the conspiracy and has sought amnesty from criminal prosecution in exchange for cooperation. I suspect that suspicious activity was discovered during the merger review process. Under the law, the informant also has a duty to cooperate with Olean or face treble damages for its conduct."
In a statement to just-food this week before news of the latest three lawsuits, Thai Union said: "Tri-Union Seafoods, a subsidiary of Thai Union, has been named in a civil complaint against the three largest producers of packaged seafood products in the United States. The lawsuit follows an antitrust investigation initiated by the US Department of Justice as a result of Thai Union's intent to purchase Bumble Bee Seafoods. We are cooperating fully with the investigation, and Tri-Union will vigorously defend itself in this lawsuit."
It added: "Thai Union is pursuing options for proceeding with the acquisition, including the evaluation of strategic options for its U.S. based subsidiaries, including Chicken of the Sea International ."
Last week, reports in Thailand quoted Thai Union CEO Thiraphong Chansiri as saying the company was considering a reduction of its shareholding in Chicken of the Sea as one of the options to help get approval for its proposed US$1.5bn deal for Bumble Bee."We are considering every option. We have not made decision about the divestment and it should become clear within the next four to six weeks," Thiraphong said.