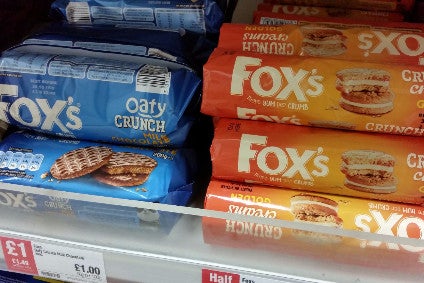 More than 250 jobs are at risk at Fox's Biscuits, the UK firm owned by 2 Sisters Food Group, as the parent company reviews operations at a loss-making facility in Staffordshire.
The site in question is located in the town of Uttoxeter in the West Midlands where Fox's Biscuits employs 780 workers. Some 250 of those face redundancy as part of a "major investment plan to maximise new growth and commercial opportunities, according to a statement.
A further 50 jobs are potentially on the chopping block at two of Fox's distribution centres, one of which is located in the same town, while the other is based further north in the city of Wakefield, West Yorkshire. Consultations with workers at those sites, where 63 people are employed, are underway as the company considers outsourcing those jobs.
Trade union group, Unite said it would be pressing 2 Sisters for talks over the potential job losses.
"As part of this [investment] plan, we have informed colleagues there are a number of tough decisions to make as we review manufacturing capabilities to give us the best possible chance of sustained success.
"Regrettably, our loss-making site in Uttoxeter requires urgent attention and biscuit production lines need re-configuring to ensure it has a longer-term, viable future. Our key priority now is to hold meaningful discussions with all affected colleagues and their representatives and ensure we explore all possible options before coming to any final decisions."
2 Sisters has been offloading some businesses falling under the empire of millionaire-owner Ranjit Singh Boparan since he stepped down as chief executive last year to become president of the chicken processor's parent company Boparan Holdings. The company is now run by Ronald Kers, who is in the process of bolstering the balance sheet, cutting debt and returning the group to profit after it was hit by a hygiene scandal, which culminated in the suspension of orders by major UK supermarkets and a parliamentary enquiry.
Earlier this month, 2 Sisters completed the sale of its Irish seafood business Donegal Catch and the frozen food brand Green Isle Brands. And last July, the company sold its red-meat assets to Ireland's Kepak Group and has also divested its Goodfella's and San Marco pizza brands.
Meanwhile, Unite's regional officer Rick Coyle issued a statement on behalf of the union in response to the news at Fox's.
He said: "The news that the management at Fox's Biscuits is planning to reduce the 700-strong workforce at the Uttoxeter site in East Staffordshire by up to 240 jobs by August this year is a massive blow to the workforce, their families and the regional economy. It will cause real economic pain.

"We are having our first meeting with the shop stewards and management on Friday (22 March) where we will digest the full implications of this announcement. It is not possible to comment more fully until we have studied the business case in detail."