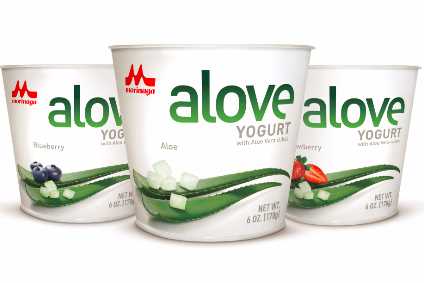 Japanese food giant Morinaga Milk Industry Co. is launching its first chilled dairy product in the US market this year with the roll-out of a range of aloe vera-based yogurts.
Morinaga unveiled its new aloe yogurt line, Alove, at the Natural Products Expo West trade show in California last week (10-12 March). The kosher-certified, gluten-free range is free from artificial flavours and high fructose corn syrup. It comes in three flavours: original aloe, strawberry and blueberry.
The product is based on Morinaga's aloe yogurt on sale in Japan but has been reformulated for the US market, Cally Casey, the company's US marketing manager, told just-food.
"It has a thinner texture and lower viscosity of yogurt than products currently available in the US," Casey explained. "We have dubbed it Japanese style. It is thinner than what consumers are used to. Through our focus groups and testing of the Japanese formula here in the American market, we actually thickened it up a little because the Japanese formulation was a little too runny. That is what consumer feedback was: a little thicker and more aloe pieces."
Morinaga believes the use of aloe vera as a "unique ingredient" will help the new product stand out on-shelf. The company is also working on functional claims "specifically pertaining to the aloe vera", Casey revealed.
The line's sugar content is "on a par" with sugar levels in other yogurt products on sale in the US dairy aisle, she adds. "The consumer will dictate if we need a reformulation. In the dairy set now we are on par with competitors. Personally, would I like to see the sugar down a little bit? Yes. However, I think the consumer will decide. We are in the right range."
Morinaga already sells Japanese products such as tofu under the Mori-Nu Silken Tofu brand inthe US. The company, which is one of Japan's largest dairy processors, decided to move into the US yogurt sector because it believes it can bring something new to the table and "disrupt" the category, Casey suggests.
"We looked at our existing product portfolio and did a lot of qualitative and quantitative research trying to understand which product would have the best chance of success in the Amercan market. We landed on our aloe vera yogurt," she explained. "The [US yogurt] category has slowed down… Consumers always want something new, something fun, a different experience. Especially in the yogurt set, which is a store within a store. We see the opportunity to disrupt the category."
According to Sanford Bernstein analyst Alexia Howard, US yogurt sales declined by 0.7% in measured channels in 2016, with Greek yogurt declining for the first time since Chobani's launch in the sector in 2012. Major competitors such as Danone, General Mills, Chobani and Fage have also invested in expanded capacity in recent years, increasing competition in the sector and adding to pricing pressure.
Casey believes that Japanese-style yogurt could be the "next Greek" in the category, helping to boost sales and reverse sector declines. "Here is something you have never seen, never tried. This could be the game changer to reinvigorate the category and get people excited about yogurt again."
Initially, the yogurt will be launched on the west coast, with products hitting the shelves by August. A nationwide rollout will follow. "We will go into ethnic channels as well as natural, premium, specialty stores, coops and then mass retailers too."
Further down the line, Casey said Morinaga could plan to introduce more of its dairy products to US consumers as it continues to drive growth in the market. "From our existing product portfolio we do have this great bifidus probiotic yogurt that we are looking at, and then a wealth of other dairy products that could potentially do well over here."