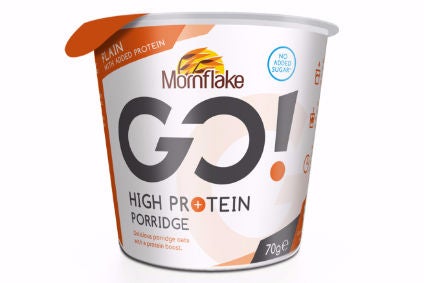 Mornflake, the UK cereal business, has introduced a high-protein porridge range in its domestic market called Go.
Mornflake Go targets "those seeking a better tasting protein boost at breakfast," the firm said.
The product is made with rolled oats, skimmed milk and plant soya protein. It promises to provide higher protein content than other soya-enriched porridge offers. Each 100g serving offers 22% total protein.
The range is available in two variants, original with no-added sugar and chocolate, in either single-serve microwaveable sachets or instant pots. It launches into Sainsbury's in the UK this month.
"The protein market is set to reach a staggering GBP8bn (US$11bn) by 2017 and health is a key driver for consumption but the strong taste and aroma of many added protein products can be a barrier to repeat purchase," said Mornflake marketing manager Richard Jones. "Mornflake Go High Protein Porridge is well placed to drive growth in the carry-our breakfast category, combining the goodness of wholegrain oats with plant-based soya protein in two quick and convenient formats."