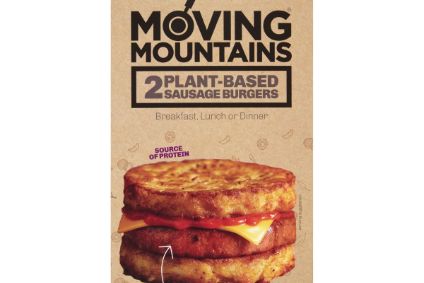 Moving Mountains, the UK-based meat-alternatives business, has started selling products at one of the country's major grocers.
The privately-held company, owned by CEO Simeon Van der Molen, has secured listings at Sainsbury's, the UK's second-largest food retailer by market share. Among the frozen SKUs on sale is a plant-based sausage burger.
Domestically, Moving Mountains does most of its business in the UK foodservice sector, though it has products on sale at wholesaler Booker, which is owned by Tesco.
The London-based firm made its first major foray into grocery retail last autumn when it secured listings at Woolworths, Australia's largest grocer. More than 800 Woolworths stores stock Moving Mountains products at the time of writing.
Moving Mountains is also set to start selling products through one of the major food retailers in the Netherlands. At the time of writing, the identity of that grocer had yet to be revealed.
Speaking to just-food last month, Van der Molen said Moving Mountains was "looking at" generating sales of GBP10m (US$13.2m) in the company's current fiscal year, which runs to the end of March. In the firm's previous financial year, it booked sales of GBP2m.
Some 75% of Moving Mountains' sales at the time of the interview were generated through foodservice customers.
The bitesize interview – Moving Mountains' Simeon Van der Molen on UK plant-based firm's roots in foodservice and push into retail