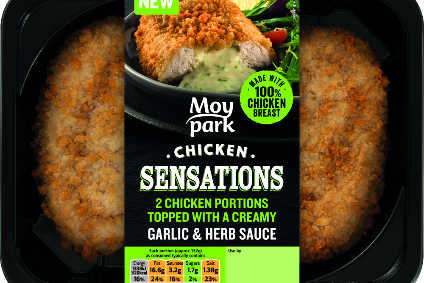 JBS-owned European unit Moy Park has launched Moy Park Chicken Sensations, a line of chilled, breaded chicken products, in the UK.
The range is described as a "twist on the classic and much loved chicken kiev" and has been developed in response to consumer demand for "innovative products that offer a new alternative to meal time occasions".
The range uses 100% chicken and launches in four variants: garlic and herb, cheese and bacon, piri piri and tomato and basil.
Briege Finnegan, brand marketing manager for Moy Park, said: "We aim to inspire our consumers with exciting, new products across all of our categories. The Chicken Sensations range launches under the Moy Park brand and was developed to offer consumers a convenient, innovative option in the chilled breaded category. We are delighted to have secured listings with Morrisons and look forward to further roll out of the product during the year ahead."
Chicken Sensations will launch across in Morrisons stores across the UK at the end of January at an RRP of GBP2.49 (US$3.64).
JBS closed its US$1.5bn deal to buy Moy Park, which was announced in June, in September.