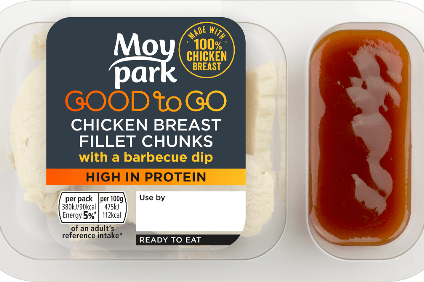 Moy Park, the UK meat processor owned by Brazil's JBS, is launching a ready-to-eat Good to Go range of snacks, its latest attempt at taking a bite of its domestic meat snacks category.
The company said the "high-in-protein, 100% chicken breast" line includes two individual portions of Good to Go chicken breast fillet chunks – each with a dip (BBQ and sweet chilli) and two individual chicken breast fillet chunk options – flame grilled and piri piri.
Moy Park said the range "was developed to address changes in consumer eating habits in the snacking market, with shoppers seeking nutritious, convenient snacking solutions tailored for busy lifestyles".
Aisling Graham, Moy Park's interim brand marketing manager, added: "We recognise the importance of new product development in line with consumer trends. Consumer priorities for 2017 are focused on convenience and health – and this has translated into the snacking market. In a competitive market place, we've designed the packaging to ensure maximum shelf impact in the food to go fixtures, using bright colours and unique branding to engage consumers."
A spokesperson for Moy Park told just-food yesterday (25 January) it is not disclosing the RRP and is waiting on "a few retailers" before the company confirms which grocers will list the new product – with an announcement expected "in the next few weeks".