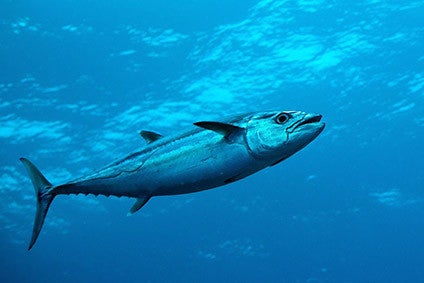 The Marine Stewardship Council (MSC) has called for more than a third of global marine catch to be certified or engaged in its sustainability programme by 2030, as part of a new strategy to mark the organisation's 20th anniversary.
The MSC said its aim is "to strengthen engagement and impact in the Global South, Large Marine Ecosystems, priority markets and species, and with consumers, while continuing to deliver value to MSC-certified fisheries".
Today, 14% of global marine catch is either certified or engaged in the MSC programme. The MSC said it aims to increase the figure to 20% by 2020, "with an ambition of more than a third by 2030".
The MSC said it aims to increase the figure by "focusing efforts on ecosystems currently under-represented in the MSC programme, but where catches and the threat to biodiversity are high".
"In addition to tuna and small pelagic species, new priority species will include squid, octopus, crab and seaweed," the MSC said. The organisation also plans increased support "to better enable fisheries in the Global South to progress towards MSC certification".
In addition, the MSC said it aims "to double the number of fisheries from the Global South" involved in its programme over the next three years.
MSC chief executive Rupert Howes said: "While there is much to celebrate, there is also a growing sense of urgency to address unsustainable fishing and deliver sustainable development goals. The MSC's new strategy prioritises those parts of the world, species and markets which can have the most significant impact on the health of our oceans."