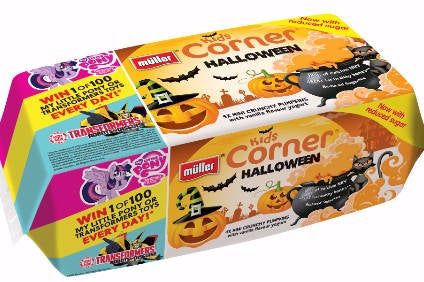 Müller has reformulated its Kids Corner yogurt brand in the UK, cutting the amount of added sugar in the product by 50%.
The German dairy group said the change in recipe will reduce the brand's total sugar content to 10% per 100g. It said the move in response to "the increasing demand for consumers to lower their sugar consumption, particularly within the kids category".
Marketing director Michael Inpong said the decision underlined the company's commitment to "supporting reducing added sugar across our whole portfolio".
"We have committed significant investment and resources to drive health and well being this year, next year and beyond, on our journey to reduce added sugar across all our brands," Inpong said. The company's kids offering must "address the growing trend for delicious, reduced-sugar options", he said.
Meanwhile, Müller has announced increased investment in the UK of an additional GBP100m (US$130.3m) over the next 18 months in a bid to grow the category in the country.
Müller said its "dairy category vision" for 2020 intends to unlock an "additional GBP700m" of dairy category growth in the UK over the next four years.