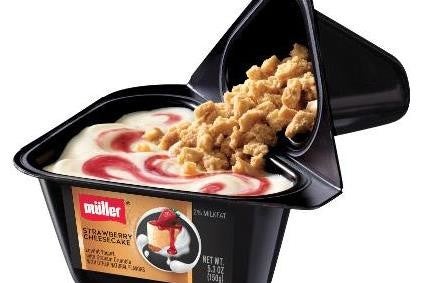 German dairy Muller and PepsiCo are ending their US yoghurt joint venture, Muller Quaker Dairy.
The venture has sold its production facility in Batavia in New York state to US co-op Dairy Farmers of America for an undisclosed sum. The Muller brand will be withdrawn from the US market, the company confirmed.
Muller CEO Ronald Kers said feedback from customers was "very positive" but admitted the US business failed to develop "in line with our expectations" due to "extremely challenging market conditions".
Kers did however stress Muller will continue to look beyond Germany to drive growth. "Muller continues to make very strong progress internationally. We will continue to grow our business by investing for the long term in our existing operations and acquisitions, including Dairy Crest's dairy operations in the UK."
PepsiCo and Muller launched the venture in July 2012, targeting the premium end of the US yoghurt sector. However, the joint venture entered the category at a time of intensifying promotional activity and slowing growth, raising concerns that increased capacity would result in intensifying competitive pressures. Competitors including Danone, General Mills and Chobani have since all stepped up their efforts to grow market share in US yoghurt.
On whether Muller believes the US still offers the company opportunity for further development, a spokesperson told just-food: "Never say never again. But for now we will focus on the completion of Dairy Crest's dairy operations. We will continue to develop our business by investing for the long term in growing our existing operations and through acquisitions."
PepsiCo did not immediately respond to requests for further comment.