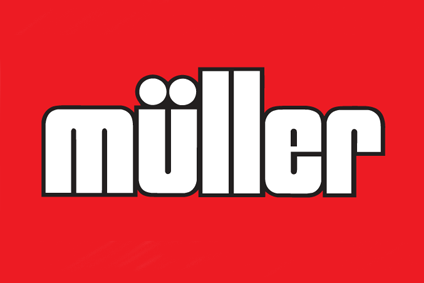 Müller plans to wind down production at a dairy plant in the UK as the German giant looks to invest in giving its milk and ingredients business in the country – much of it built through two acquisitions in four years – a "sustainable and vibrant future".
The company is spending GBP100m (US$124.8m) across its two businesses in the UK – Müller Milk & Ingredients and Müller Yogurt & Desserts – over the next 18 months to "improve operational, innovation and marketing capabilities".
Müller yesterday (3 November) confirmed plans to spend GBP60m on its milk and ingredients arm, investment that will be used to improve the performance of five of its sites.
However, the company is proposing to start a "phased wind-down" of its Chadwell Heath dairy in north-east London over an 18-month period. The move could lead to the loss of 389 permanent posts. Müller said its distribution network in the South East would be unaffected "and will be maintained and developed to meet current and future customer requirements".
Müller will start a 45-day consultation on the wind-down proposals on 10 November "and will work with affected employees and their representatives to look at all options including offering alternative roles within the business".
If a decision is taken to wind down processing operations at Chadwell Heath, Müller said it will work with dairy farmers who supply the site "to review their options with the intention that wherever possible, they will not be disadvantaged".
The proposals follow the acquisition of Dairy Crest's dairy operations, including the dairy at Chadwell Heath, in 2015. Müller said the move is part of its plan "to put in place a modern, efficient fresh milk and ingredients processing and distribution business with national coverage", which meets the needs of its customers across the country.
Andrew McInnes, MD of Müller Milk & Ingredients, said: "When we acquired Dairy Crest's fresh milk dairy and distribution operations just under a year ago, we made it clear that change would be required to secure a better and more vibrant future for the dairy sector in Britain. We have taken time to assess the best way forward and to model and design a national processing and logistics network which fully meets the needs of our customers throughout the country now and in the future.
"By improving operational efficiencies and capabilities at these sites, we can unlock new innovation to transform the milk and ingredients sector, benefitting our consumers, customers, colleagues and farmers. Regrettably, it is clear that the dairy at Chadwell Heath is no longer economically viable. It requires complete overhaul and modernisation and in an industry which has struggled for many years with excess and inefficient processing capacity, we cannot justify committing the level of investment which would be required to bring this site to an acceptable and sustainable level of performance.
Elsewhere, the GBP60m investment programme will see Müller "upgrade capabilities and operational efficiencies" at processing facilities at Severnside and Foston with "further enhancements" to dairies at Droitwich, Manchester and Bridgwater. Müller said the project will create up to 180 new jobs.
"The investment is part of a total of more than GBP100m which will be spent by Müller in the UK across its Müller Milk & Ingredients and Müller Yogurt & Desserts businesses in the next 18 months to improve operational, innovation and marketing capabilities," the company said.
"Müller has already confirmed a major investment at its dairy at Bellshill in Scotland and reversed the decision taken by Dairy Crest, prior to the sale of its dairies to Müller, to close a dairy at Hanworth in South West London, securing 170 jobs at the site," the company said.
Earlier this year, Müller confirmed it would push ahead with the closure of two dairy facilities in East Kilbride and Aberdeen in Scotland.
In 2012, Müller bought the then largest fresh milk processor in the UK, Robert Wiseman Dairies, a deal that gave the company facilities including those in Droitwich, Manchester, Bridgwater, as well as the two in East Kilbride and Aberdeen set to close.