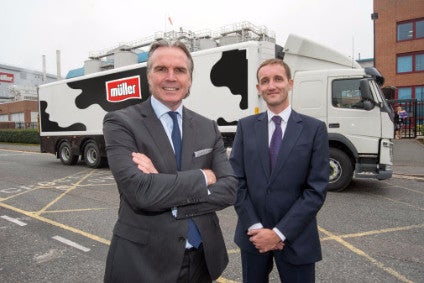 German dairy Muller Group is reorganising its UK business into two divisions following the closure of its acquisition of Dairy Crest's liquid milk business.
Muller UK will operate under two distinct units: Muller Milk and Ingredients, which will combine the Dairy Crest business with Muller Wiseman Dairies, and Muller Yoghurt and Desserts.
Muller Yoghurt and Desserts managing director Bergen Merey said that the unit has "great plans" for the coming year. "Our branded and private label yoghurt and desserts business continues to develop strongly at our production sites in Market Drayton, Minsterley and Telford," he added.
Meanwhile, MD of the enlarged milk business, Andrew McInnes, said that the unit is focused on "business as usual" as it commences the integration process. More detailed information will be provided to employees on Muller's "vision and plans" for the new organisation at a series of site meetings, the company added.
Muller's acquisition of Dairy Crest's liquid milk interests was delayed by a complex competition approval process that saw the German dairy make a number of changes to the original proposal in order to address competition concerns.
Completion of the deal leaves two primary suppliers of liquid milk in the UK market: Muller and Arla. Consolidation was viewed as necessary in order to bring some stability to the liquid milk sector in the country, which is characterised by low pricing and stagnant volumes.
Commenting on the disposal, Dairy Crest CEO Mark Allen said the transaction paved the way to a more sustainable future for the liquid milk sector in the UK. "This is a transformational moment for Dairy Crest and the wider dairy industry and helps bring much needed stability to the UK dairy sector… Dairy Crest can now focus on growth, through both our branded cheese and spreads operations and new revenue streams from manufacturing products for the fast-growing global infant formula market."