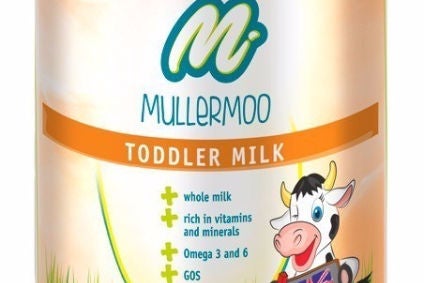 MullerMoo, a new baby products brand, is launching Melli-Cow toddler milk.
The brand, which officially launched last week (16 March), is owned by Dr.Muller Biological Technology Co., a UK registered company owned by China's British Mushi.
Melli-Cow toddler milks are set to roll out in June this year. They will be available in 600g cartons and 900g tins, the company revealed.
MullerMoo is made using fresh whole milk via a spray-drying process that, the company said, minimises bacteria while retaining "essential nutrients".
MullerMoo CEO Sandra Mendey commented: "MullerMoo toddler milk is processed, prepared and packaged in Kendal, UK. With 50 years of experience in manufacturing baby products that we ride on, we can safely claim that the new baby product is revolutionary in many aspects.
"Spray drying helps in keeping the milk powder fresh and consumable. It also makes the milk powder easily soluble, which helps in quick mixing and feeding. Besides, the toddlers can also digest the nutrients easily for the high solubility of the milk powder."