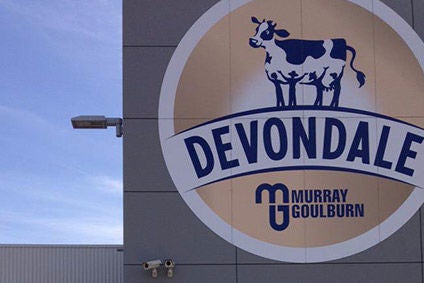 Murray Goulburn has attracted interest from unnamed parties considering buying part or all of the embattled Australian dairy group.
The cooperative revealed the approaches alongside the publication of its annual results, which included lower sales and an annual loss of more than AUD370.8m (US$293.4m).
In June, Murray Goulburn, trying to rebound from a problematic 2016, launched a "comprehensive" review it said would look at "all aspects" of its strategy and corporate structure. The move followed a previous review of the group's manufacturing network, which resulted in plans to close three facilities.
The Devondale milk owner said today it had been contacted with "indicative proposals from third parties" since embarking on the broader review.
"Since announcing the strategic review in June 2017, MG and its advisor Deutsche Bank have received a number of confidential unsolicited indicative proposals from third parties. These proposals have ranged from concepts around certain non-core assets to larger proposals including whole of company transactions," Murray Goulburn said. "The board has requested Deutsche Bank to seek more detailed proposals from these and other relevant parties so as to enable MG to assess the merits of such proposals."
The co-op insisted it would consider whether the proposals would lead to "a higher farmgate milk price" being paid "on a sustainable basis" and whether they could give the business "the ability to access capital as required into the future".
CEO Ari Mervis, who joined Murray Goulburn in December, said the company's latest financial year, which ran to 30 June, had "tested the strength and resolve" of the co-op and its suppliers.
He added: "The coming months will be pivotal for the future of the business as the Board and management finalise substantial business improvement programs and third parties are given an opportunity to submit formal proposals to the company. MG's FY18 milk intake remains firmly in the hands of its suppliers, and with their support MG looks forward to a constructive year."
In April 2016, Murray Goulburn issued a profit warning and announced cuts to the price it pays suppliers for milk. The moves, driven by weakness at the co-op's ingredients and nutritionals arm, prompted the resignation of Mervis's predecessor Gary Helou.