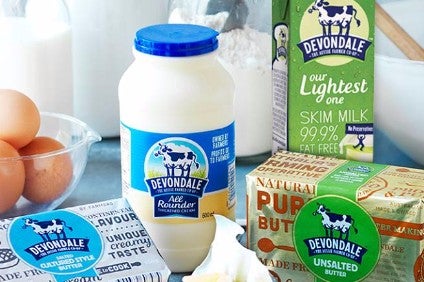 Up-for-sale Australian dairy processor Murray Goulburn has confirmed it has had approaches from a number of suitors interested in either buying some assets or taking over the whole co-operative.
Murray Goulburn's statement, issued today (21 September), comes amid speculation in the Australian media Chinese dairy firm Yili has made a substantial offer to acquire the business.
Murray Goulburn said in a statement to the Australian Securities Exchange (ASX) bids have been received.
"These proposals have ranged from the sale of certain assets to whole-of-company transactions," it said.
Murray Goulburn said it and financial advisor Deutsche Bank are "engaging with a number of parties to assess their proposals".
It said it is too early to comment on valuation or implementation, and there is no certainty that any transaction will follow.
Companies that have been reported to be interested in Murray Goulburn's assets include Fonterra, Lactalis-controlled Parmalat, Canada's Saputo, and Australia's Bega Cheese but reports in the Australian media suggest it is Yili – a privately-owned company that makes milk products for the Chinese market – which is making the running.
The Australian newspaper claimed yesterday Yili had made what the publication described as a knock-out bid for Murray Goulburn. The newspaper said speculation was growing Yili had made an offer for the Devondale owner's listed entity, the MG Unit Trust, that unnamed sources estimated at AUD1.20 per unit.
However, Murray Goulburn said today: "No offer has been received for the units in MG Unit Trust for AUD$1.20 per unit, as speculated in the media."
In 2015, Murray Goulburn undertook a capital restructure that involved the establishment of the MG Unit Trust, a special purpose funding vehicle listed on the ASX. The responsible entity of the MG Unit Trust is MG Responsible Entity, a wholly-owned subsidiary of Murray Goulburn. The board of MG Responsible Entity is the same as the Board of Murray Goulburn.
The MG Unit Trust provides unitholders with an economic exposure to Murray Goulburn equivalent to the economic exposure of shareholders in Murray Goulburn and an opportunity to earn returns based on the performance of Murray Goulburn.
In August, Murray Goulburn reported a loss of AUD370.8m (US$248.9m at the then conversion rate) for the year to 30 June.
In May, Yili – or Inner Mongolia Yili Industrial Group to give it its full name – announced its intention to bid for US organic yogurt business Stonyfield, but its owner, Danone, instead sold it to fellow French dairy group Lactalis.