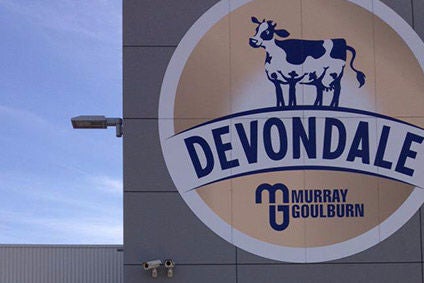 Australian dairy cooperative Murray Goulburn plans to eliminate about 70 jobs across multiple sites as part of a cost-efficiency drive, just weeks after Canada's Saputo struck a deal to buy to the struggling business.
In a letter to suppliers on Tuesday (21 November), the Devondale owner said it had advised manufacturing teams of the forthcoming cuts, which will affect plants in Koroit, Cobram, Maffra and Leongatha. Voluntary redundancies will be offered for the majority of the roles.
"As part of our commitment to reduce costs and drive business improvement, we are making changes to our product manufacturing operations," Craig McRae, the general manager for milk supply and field services at Murray Goulburn, said in the letter. "This continues our efforts to address our cost base, improve efficiencies and ultimately increase earnings and the farm-gate milk price."
Back in June, before fellow dairy company Saputo agreed in October to purchase Murray Goulburn for CAD1.29bn (US$1bn), the Australian co-op said it launched a "comprehensive" review that would look at "all aspects" of its strategy and corporate structure.
Saputo's takeover of Murray Goulburn remains subject to approval by shareholders and Australia's competition watchdog. The companies have said they expect the transaction to be completed in the first half of 2018.
Speaking to analysts after announcing Saputo's move for Murray Goulburn's assets, Lino Saputo Jr., the chief executive of the Canadian group, admitted the loss-making Australian firm was in a "distressed situation" but said "we believe Murray Goulburn can come back to historical levels of profitability".
In the year to the end of June, Murray Goulburn ran up losses of more than AUD370m (US$280.7m) and a 10% fall in revenues.
McRae said of the jobs cuts that "more decisive action is now required" even after Murray Goulburn had lowered the milk intake over the past 18 months "through a reduction in our contractor workforce, changes to rosters and the use of annual leave and accumulated hours".
He added: "These actions have been taken to ensure MG can deliver sustainable and competitive returns."