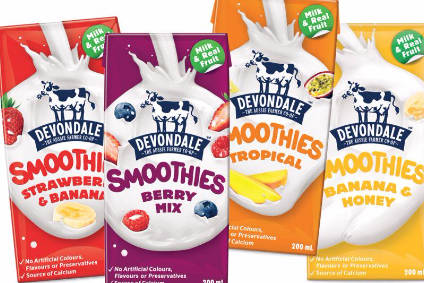 Embattled Australian dairy processor Murray Goulburn today (24 August) booked a jump in annual profits, despite a difficult 12 months that saw the company cut payments to its farmer-owners, issue a series of profit warnings and announce the departures of its MD and CFO.
However, Murray Goulburn announced plans for cost savings in a bid to mitigate recent efforts to support its farmer-members after the co-op lower the price it pays for milk earlier in the year.
The company revealed a 61.2% increase in net profit, which rose to AUD40.6m (US$30.8m) in the year to 30 June. This was in-line with Murray Goulburn's most recent profit forecast range of AUD39-42m but below the profit of AUD63m the company predicted when it listed on the Australian stock exchange last July.
The difficult year saw the dairy co-operative, which part listed on the ASX to raise capital, battle "historically weak" dairy commodity prices. Controversy over the reduced profit outlook and the decision to list prompted Murray Goulburn's CEO and managing director, Gary Helou, and its CFO, Brad Hingle, to resign from their respective positions in April.
EBIT increased 57.2% to AUD81m as the company strengthened its operating margin. Interim CEO David Mallinson revealed Murray Goulburn has identified further cost-cutting initiatives in order to mitigate the impact of a "milk supply support package, which cost AUD183m to the close of the fiscal year and was introduced to support its suppliers "in a very difficult environment".
Mallinson continued: "Board and management remain focused on mitigating the impact of the MSSP and today we are pleased to announce we have identified a programme of cost efficiencies to deliver an additional AUD50m to AUD60m per annum during FY18 with AUD10m to AUD15m of this amount to be delivered in FY17."
While profits improved, the co-operative's revenue of AUD2.8bn was down 3.3% compared to the previous twelve months. Mallinson attributed the drop to a number of challenges: "FY16 has been a challenging year for our co-operative. We faced an environment comprised of very challenging macro settings, including sustained low commodity prices, a volatile Australian dollar, changes in Chinese regulations, and difficult seasonal conditions across many of our key regions."
Murray Goulburn noted these factors are likely to persist moving into the new fiscal year. "MG continues to face a challenging macro environment for the year ahead with global markets in over supply and a higher than expected Australian dollar. Commodity prices have shown some upward momentum in August, with recent Global Dairy Trade results showing recovery across most commodities. This recovery comes at a time before peak production in Australia and New Zealand, and only a sustained recovery through those peaks will add meaningfully to milk price returns," the company said.