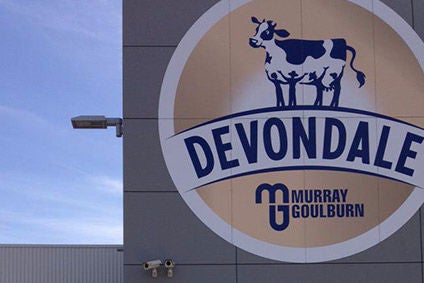 Murray Goulburn, the Australian dairy cooperative, has settled with the country's corporate watchdog over claims the Devondale owner misled farmers about the price the business would pay for milk.
The company, which last month agreed to a CAD1.29bn (US$1.01bn) takeover bid from Canadian dairy giant Saputo, said yesterday (16 November) it had settled with the Australian Securities and Investments Commission, which had investigated the co-op's conduct before it announced a cut to its forecast milk payments in April 2016.
Murray Goulburn said the ASIC will apply to Australia's Federal Court seeking "a declaration of one contravention" by MG Responsible Entity Limited (MGRE) – the entity responsible for MG Unit Trust, the co-op's listed arm – of the continuous disclosure provisions of the country's Corporations Act, as well as a civil penalty of AUD650,000 (US$492,000). Under the settlement, MGRE will agree to the civil contravention and the proposed penalty.
"It is not alleged by ASIC that Murray Goulburn deliberately contravened its continuous disclosure obligations," the co-op said.
In a statement, Murray Goulburn chairman John Spark added: "Murray Goulburn takes its disclosure obligations very seriously and has cooperated fully with ASIC during its investigation of these matters. We consider that this settlement is in the best interests of Murray Goulburn as we continue to focus on our objective of supporting our farmer suppliers, including through the proposed Saputo sale process announced on 27 October 2017."
The deal with Saputo, which remains subject to competition approval, will include all of Murray Goulburn's operating assets and operating liabilities, including milk supply commitments.
Announcing the deal last month, Murray Goulburn said it was to retain all assets and liabilities associated with the listed MG Unit Trust, as well as any liability in relation to three matters: the Australian Competition and Consumer Commission proceedings facing the business over alleged misleading representations; a unit holder class action launched earlier this year against the trust; and the investigation into the co-op by the ASIC.