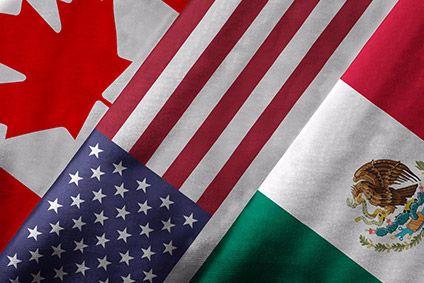 An agreement on the North American Free Trade Agreement (NAFTA) could be reached by the first week of May, Mexico's Economy Minister has said, with that optimism corroborated by US President Donald Trump.
Mexico's economy minister Ildefonso Guajardo said in a TV interview on Monday (9 April) there was "a very high probability, about 80%" of an agreement in principle by May.
Guajardo reportedly said US negotiators were under pressure to strike a new deal by the first week of May in order to give US Congress members time to discuss a reworked NAFTA, given that the make-up of both chambers will change after US mid-term elections in November.
"We're in a type of permanent round," he said. "The technical groups are working on areas like the automotive rules of origin."
Trump offered a similar view on Monday when he said the US, Canada and Mexico were "fairly close on NAFTA", adding that they "have a chance to make a deal".
Negotiations to rework NAFTA began last year after Trump took office. He had repeatedly threatened to terminate the 1994 agreement if it could not be reworked to better serve US interests.