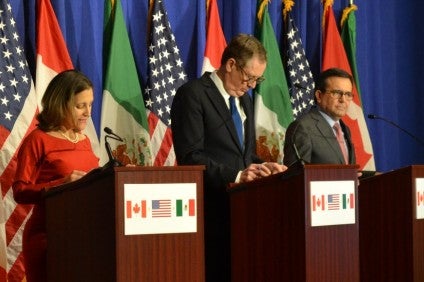 After four rounds and 22 days of talks squeezed into just over two months, negotiators working to modernise the North American Free Trade Agreement (NAFTA) have admitted to new challenges in the discussions, which are now expected to extend into the first quarter of next year.
A trilateral statement from the US, Canada, and Mexico said the fourth round, which took place from 11 to 17 October in Arlington, Virginia, involved seven full days of discussions on nearly 30 chapters of the agreement.
Progress was claimed in several negotiating groups, including customs and trade facilitation, digital trade, good regulatory practices, and certain sectoral annexes – with the parties having put forward substantially all initial text proposals.
Building on the progress made in prior rounds, the US, Canada, and Mexico have now substantively completed discussions in the Chapter on Competition.
Additionally, negotiators made progress in several other negotiating groups, including customs and trade facilitation, digital trade, good regulatory practices, and certain sectoral annexes.
But it also seems new proposals – including a provision to automatically terminate NAFTA every five years unless it is specifically renewed, revamping the dispute settlement system and reducing the amount of US government procurement open to NAFTA partners – "have created challenges" and "significant conceptual gaps."
Ministers have now been given a longer period to "explore creative ways to bridge these gaps" before the next round of talks on 17 to 21 November in Mexico City, with additional negotiating rounds now scheduled through the first quarter of 2018.
The original intention had been to conclude the discussions before the end of the year to avoid clashes with upcoming elections among the NAFTA members. US mid-term elections are set to take place in November 2018, and the Mexican presidential election in 2018. Canada is also scheduled to hold its federal election on or before 21 October 2019.
US Trade Representative Robert Lighthizer expressed his frustration in his closing statement, noting: "Frankly, I am surprised and disappointed by the resistance to change from our negotiating partners."
On modernising the agreement, he said: "We have made some headway…but even here we have sometimes seen a refusal to accept what is clearly the best text available in spite of the countries having agreed to it in the past."
While on rebalancing the US trade deficit, Lighthizer claimed: "We have seen no indication that our partners are willing to make any changes that will result in a rebalancing and a reduction in these huge trade deficits.
"Now I understand that after many years of one-sided benefits, their companies have become reliant on special preferences. But the President has been clear that if we are going to have an agreement going forward, it must be fair to American workers and businesses that employ our people at home.
"Continuing to design a national manufacturing policy that is largely dependent on exports to the United States without balance cannot long continue. All parties must understand this and be reasonable if there is any chance for these negotiations to be successful."
US President Donald Trump has repeatedly threatened the trilateral deal will be terminated if a new one cannot be struck.
However, Canada and Mexico hit out at the US.
"We have seen proposals that would turn back the clock on 23 years predictability, openness and collaboration," Canada's Foreign Minister, Chrystia Freeland, said at a news conference at which she, Lighthizer and Mexico Economy Secretary Ildefonso Guajardo provided an update on discussions.
Guajardo added: "We must ensure that decisions we make today do not come back to haunt us tomorrow."