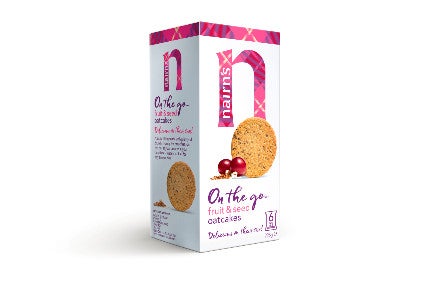 UK group Nairn's Oatcakes has launched a product targeted specifically at consumers snacking on-the-go.
The company already has a range of oatcake and biscuit products in its portfolio but has felt the need to bring to market squarely targeting the trend. Each box contains six portion packs of three oatcakes.
"The first of a new On-the-Go range, our new Fruit & Seed Oatcakes are perfect for grocery and convenience retailers looking to meet consumer demand for healthier on-the-go snacks that fit into busy lifestyles," head of marketing Emma Heath said.
Nairn's has secured a nationwide listing at Waitrose for its Fruit & Seed Oatcakes. The products are also on sale at Morrisons outlets in Scotland. They have an RRP of GBP1.39 (US$2.09).
The oatcakes contain wholegrain oats, currants and brown flaxseed.
The most recent set of accounts available at Companies House for the privately-owned business are for the 12 months to the end of May 2014. In that year, Nairn's saw turnover rise 19.1% to GBP22.1m. Exports account for around 10% of sales.