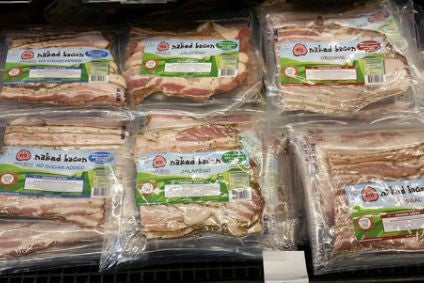 Missouri-based bacon producer Naked Bacon is turning to digital product labelling to help consumers quickly identify the "all natural" benefits of its products, in a move that chimes with increased US consumer demand for healthier food options.
The bacon producer is teaming up with US data solutions provider Label Insight to offer detailed information about all its bacon products using the firm's 'SmartLabel' service. The service allows consumers to scan a product's QR code, or visit a dedicated online web site, to see a detailed breakdown of ingredients and other information.
Naked Bacon is produced without nitrates or phosphates using a recipe the company said dates back to 1861. The bacon is produced in small batches to ensure quality and each batch is gluten-free, dry cured by hand, has no water added, and is lower in sodium due to the use of high-quality sea salt.
Naked Bacon founder and president John Kreilich said: "Our customers buy our products because of what we stand for, both in terms of what our products are about and their flavour profiles. Consumers appreciate that our bacon is made in small batches with all-natural ingredients."
Kreilich said: "Providing complete transparency to current and potential consumers through the SmartLabel initiative will truly distinguish us from competitors by offering consumers a look into our products beyond the physical package label in a quick and easy to use digital format."
Chief customer officer at Label Insight Ronak Sheth said: "We've seen a seismic shift in what consumers expect from food companies in terms of product information. We're excited to help Naked Bacon provide more transparency about their food to gain customer trust and loyalty, ultimately leading to a larger customer base."