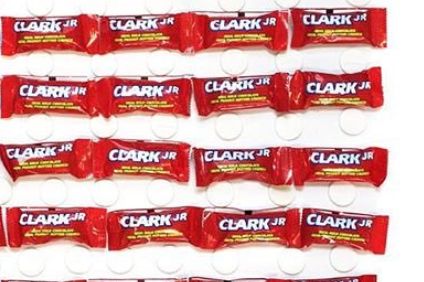 One of the New England Confectionery Company (Necco)'s best-known products – the Clark Bar – has reportedly been sold to Pennsylvania-based Boyer Candy Company.
Last week, it was revealed a number of other Necco brands were to be sold off at an auction at the end of this month.
But it seems the Clark Bar – a chocolate-coated peanut butter crunch product – has already been sold, for an undisclosed sum, with reports saying Boyer Candy Company has purchased the rights, recipes and equipment for the product from an unidentified seller.
It is something of a homecoming as the Clark Bar was created in Pittsburgh, Pennsylvania, by Irish immigrant D.L. Clark in 1917.
The Clark family sold the business in 1955 and ownership changed several times over the years. Necco had been producing Clark Bars since the 1990s until it got into financial difficulties earlier this year and declared bankruptcy in April.
Necco closed the doors on its manufacturing facility in Revere, Massachusetts, in the summer after a prolonged attempt to find a buyer for the business ultimately failed.
Round Hill Investments, which through its Sweetheart Candy Co. vehicle had snapped up Necco in May for US$17.3m, then closed the company's factory after selling the business to an unnamed third party.
Round Hill acquired Necco in May just days after a bankruptcy auction for the confectioner had named Ohio-based peer Spangler Candy Co. as the buyer with a $18.8m offer. That deal apparently fell through.
However, it was subsequently reported a dispute had erupted between the trustee of Necco and Round Hill Investments about the terms of the final payment for the candy supplier. Round Hill then sold on the business again to an unnamed party.
Last week, it was revealed an auction will be held on 26 and 27 September when the intellectual property rights to Necco brands such as Haviland Thin Mints, Skybar and Mighty Malts Milk Balls will be sold to the highest bidder, alongside equipment and the company's 360,000 sq ft factory itself.
The auction will be carried out by Rabin Worldwide on behalf of its partner Union Confectionery Machinery Company.
just-food has asked Boyer Candy Company for a comment.