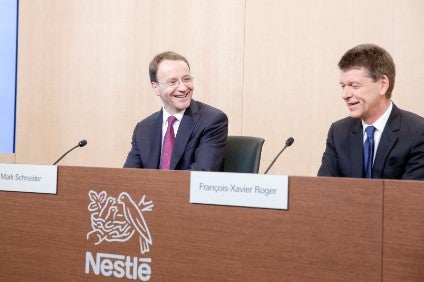 Daniel Loeb, the Third Point activist investor in the world's biggest food company Nestle, has said there is still more of an opportunity for new chief executive Mark Schneider to "unlock value".
Reuters reported Loeb as saying in a letter on Friday (20 October) that Schneider "has set a new course for Nestle" since becoming CEO in February.
Under pressure from investors including Loeb, the CEO imposed a target in September for an underlying trading operating profit margin of 17.5% to 18.5% by 2020. That metric is expected to improve by 20 basis points this year, from 16% in 2016, Nestle said last week when it announced nine-month results.
Switzerland-based Nestle's sales came in at CHF65.2bn (US$66.6bn), down 0.4% from a year earlier. It booked organic growth of 2.6%, which represented "real internal growth" – a metric that excludes the impact of pricing – of 1.8%.
In Friday's letter, Loeb called for specific margin targets, a faster pace of share buybacks, a reshaped portfolio and the sale of Nestle's stake in cosmetics giant L'Oreal. The company is in the process of selling off its US confectionery business, which it hopes to complete by the end of the year.
Last week, Nestle said it plans to spend an extra CHF400-500m on restructuring and related expenses in 2017 as part of a CHF2.5bn programme from 2016 to 2020. As a consequence, the company expects its separate trading operating profit margin to decrease by 40 to 60 basis points this year.
"We're committed to fast execution and meaningful progress toward our 2020 targets," Schneider said on a conference call. CFO Francois-Xavier Roger added that "we are booking costs earlier than anticipated".
The Wall Street Journal reported Loeb as saying he was pleased with Schneider's "overall shift in tone, particularly indicated by the willingness to give a specific margin target and commit to selling assets".