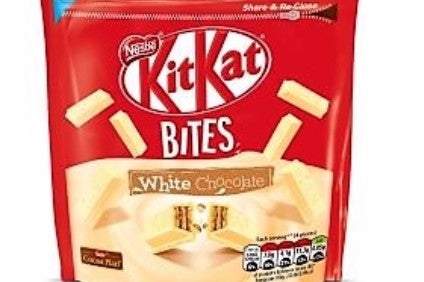 Swiss chocolate giant Nestle's UK & Ireland arm is introducing two new products to its KitKat range.
Kitkat Bites White Chocolate and Kitkat Chunky White follow on from the recent launches of KitKat Bites, KitKat Bites Peanut Butter and KitKat Chunky New York Cheesecake.
Both of the new white chocolate products are available exclusively in Tesco.
Ellie Worley, senior brand manager for KitKat, said: "We know that people who love white chocolate are very passionate about it and very loyal.
"We are incredibly excited to bring these new white chocolate additions to KitKat and make our consumers' breaks even better by allowing them to share their favourite white chocolate variants with family and friends."
KitKat Chunky was first launched in 1999 while KitKat Bites joined the range in 2016.
The original KitKat was created by UK chocolate maker Rowntree of York in 1911. Rowntree was acquired by Nestle in 1988.