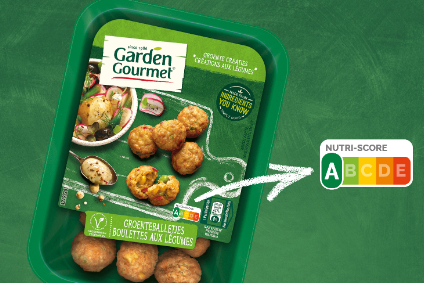 Nestlé and Danone are among food manufacturers calling on the European Commission to make the Nutri-Score product labelling scheme mandatory across the European Union.
Switzerland-based food giant Nestlé, French dairy heavyweight Danone and frozen potato products company McCain Foods have joined with large European retailers, consumer organisations, academics and members of the European Parliament to urge the EC to act.
The near 40-strong coalition announced today (28 April) that it has written to Stella Kyriakides, the European Commissioner for Health and Food Safety, requesting that Nutri-Score, developed in France, becomes mandatory in the EU. Nutri-Score is currently only applied on a voluntary basis.
Nutri-Score is a colour-coded system that classifies food and drinks according to their nutritional profile. It gives a score ranging from A (healthier choices) to E (less healthy choices).
The coalition said research conducted in several countries shows Nutri-Score is currently the best-performing scheme. "It both aids consumers to compare the nutritional quality of foods across a range of products and to make healthier choices in the supermarket," it said.
Marco Settembri, Nestlé CEO for Europe, Middle East and North Africa, said: "Nutri-Score helps people make good food choices and motivates food and drink companies to accelerate the development of healthier products. Nutri-Score shouldn't only help Nestlé to raise the bar. We're inviting the whole industry to join us."
Thomas Gauthier-Lafaye, Europe public affairs director at Danone, added: "At Danone, we actively promote healthier eating and drinking habits. No system is perfect, but we see Nutri-Score as the best scheme today for people to compare products' nutritional quality at a glance, also within a category. We therefore support the call to make this colour-coded and front-of pack nutritional label mandatory across the EU."
His comments were echoed on Twitter by Danone CEO Emmanuel Faber.
At @Danone we promote balanced choices. No system is perfect, but we see #NutriScore as the best label today for people to compare products' nutritional quality at a glance. We support the call to make it mandatory in the #EU. https://t.co/kwg8ShkDpi @SKyriakidesEU #NutriScoreNow https://t.co/Hw8GJkhhas

— Emmanuel Faber (@EmmanuelFaber) April 28, 2020
In November, Nestlé announced the implementation of Nutri-Score in Austria, Belgium, France, Germany and Switzerland. A few months later, the first Nestlé products with Nutri-Score labelling started to reach store shelves.
The first Nestlé brands featuring Nutri-Score are: NAT, Chocapic Bio and Nesquik Alphabet breakfast cereals, Menier chocolate, Buitoni sauces and Wagner pizzas, and plant-based food under the Garden Gourmet brand. Other lines such as Cheerios and Fitness breakfast cereals, Nescafé and Nestlé Dessert will follow before the end of the year.
Activia and Alpro owner Danone said in January it was putting the Nutri-Score labels on products on sale in Spain. It was already using the labels on products in France, Belgium and Germany,